Lunch & Learn Series:
Emerging Trends in Doors and Hardware for Health Care | Presented by Allegion
Speaker
Gene Jones, AHC, Allegion Healthcare Business Development Leader
Description
Gene Building on Allegion's recent health care research, we will discuss the latest trends and their impact on door and hardware applications. This course will examine opening solutions that control access and traffic flow, optimize space, help prevent the spread of infections, and secure behavioral health areas.

Learning Objectives
Learn how to create healthier environments with touchless access control.
Explore the latest trends in security and access control in hospitals.
Discuss the use of doors to create flexible space savings designs.
Examine solutions for securing behavioral health areas, including ligature resistant hardware.
---
PLEASE NOTE: This is a Lunch & Learn program and is not eligible for CEUs.
DISCLAIMER: The views expressed by presenters in this Lunch & Learn should not be construed as directly representing the views of the American Society for Health Care Engineering (ASHE). ASHE does not endorse any products or services promoted in this Lunch & Learn.
Information provided by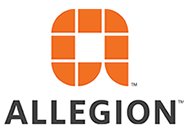 Original Air Date
June 9, 2022
12:00pm - 1:00pm CST