ASHE's new "Voices of ASHE" feature highlights individual members and their diverse experiences. You can nominate any ASHE member who you think is making a difference in the field, such as an exceptional worker, role model or thought leader. There is no criteria for nomination related to years on the job, title or background. Share the story of someone you admire to inspire current members and future professionals, and to broaden the health care field's awareness of who we are and what we do.
---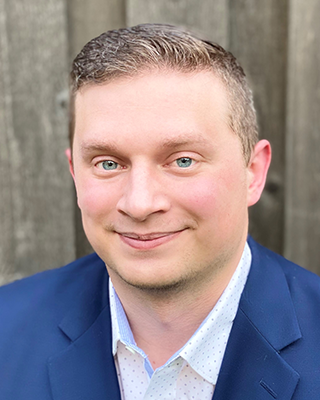 Featured Member
Benjamin T. Leutze CHFM, CHC
Assistant Director of Facilities | Aurora University
Aurora, Illinois
How did you end up in this field?
I was working full time as a student in the central heating plant at Brigham Young University (BYU) racking coal ash out of the boilers with another student in the BYU facilities and property management major. He encouraged me to apply to the major that fall and pursue a career in facilities management.
What do you like about your work?
I love the problem-solving required every day. Facilities management is always changing and adapting to opportunities that arise during the course of operations.
What are some of the new challenges in your field?
The biggest challenge (or opportunity as I like to call it) is the need to change the culture of negativity. Many problems can be solved by changing our attitudes towards how we interact with colleagues and partners. The pandemic has created a unique opportunity to highlight the important work that we do but if we continue to communicate as we always have, nothing will change.
What do you like doing in your spare time?
I am a fanatic for cars. I especially love concept cars and watching car reveals. I think the innovation to push the boundary of what is possible is something we could all learn from.
What advice would you give your younger self?
Don't let people's opinions sway your drive. So many peers will try to tell you "it isn't that simple" or "this is the way things are and there is nothing you can do to change that". Do not listen. Continue to hope and dream.
Who influenced you the most in your career?
The two individuals that have influenced my career the most up to this point are John Ellis with Intermountain Healthcare and Clayton Smith with Children's Health. John has been a mentor since the very early stages of my career and created opportunities to learn from folks within his organization while I was in school to be able to apply what I was learning to real life. Clayton Smith has been a great sounding board and supportive while I was a young professional within the facilities management field. I have learned a lot from Clayton while writing articles together and pursuing new and interesting opportunities in my career.
What are some of your goals working the field?
I have the goal to return to the health care facilities management field. I have always been drawn to the most challenging opportunities where I can stretch and grow both personally and professionally.
What would your dream job be?
My dream job is to create a network of health care internship and apprentice programs across the country to grow the awareness of the healthcare facilities management field and train the next generations of health care facility managers.
What is a fun fact about you?
I can speak and/or understand six different Filipino languages.
Melissa Kyle CHFM, CHC, CHSP, CHEP, LSSYB
Executive Director, Facilities Engineering
JPS Health Network
How did you end up in this field?
I started full time at an entry-level safety position while finishing up my senior year in college. My position focused on gaining knowledge and experience within the regulatory realm of environment of care, life safety and emergency management. I learned how to evaluate and apply the regulatory aspects of the field to the operations. In the process, I spent a significant amount of time learning operations not only on the safety side but also within engineering.

I quickly learned my passion and purpose within health care was engineering operations and its contribution to the overall improvement of patient safety.
Who influenced you the most in your career? 
I was blessed to have some fantastic leaders and mentors throughout my career that molded me into the leader I am today. My first leader, Lorrie Elizarraraz, was pivotal in my initial growth and success. She taught me the importance of our work, importance of striving to place patient safety first, and understanding of an immense amount of code requirements. Call it lucky, but I was also very fortunate to have the mentorship from my husband who is a very successful leader in facilities engineering. He taught me so much about engineering operations including understanding of equipment and systems and how to effectively manage an engineering team.
Tell us how you developed professionally.  
Over the course of my career, I have been fortunate to serve as both a safety officer and facilities director before successfully promoting up as an executive over facilities operations for a large health network. My regulatory background also leveraged opportunities for me to complete mock surveys for a health system in the Dallas/Fort Worth area as they prepared for accreditation surveys.
What advice would you give your younger self? 
There are several pieces of advice I would give my younger self or anyone who is starting their career in this field. First, don't be afraid of making mistakes and don't be consumed by the fear of potential failure. Mistakes foster opportunities for further growth. If you are not willing to put yourself out there and take chances to learn, then you are hindering your success. There were many concepts to operations (including equipment functionality, code applicability, etc.) that I did not know but had to learn. Asking questions is key! Knowledge is truly power to success. Second, leverage the knowledge and experience of those who are seasoned in the field. They can provide a wealth of information to guide you. I can think of many who I have admired in my career and value their feedback and experiences. Third, covet important relationships. While it is important to build relationships, it is vital to maintain them. We are successful by setting best practices and sharing those ideas among each other. There are so many brilliant, forward-thinking individuals in this field. Remember the times you received much needed assistance and pay it forward. Learn, teach, educate and grow!
Tell us about your time away from work.  
My time away from work is focused on my family. My family is everything to me. I have been married to my husband Ricky for nine years and we have a six-year-old daughter in Kindergarten and an eight-year-old son in second grade. Our son plays on a 7U tournament baseball team through the EDGE baseball organization and our daughter does gymnastics. Traveling for baseball has provided many opportunities and experiences as a family. My husband and I enjoy watching our kids grow and excelling in their love for baseball and gymnastics. In addition to these activities, I thoroughly enjoy time outdoors, fishing and hunting with my husband along with spending time at our family farm in Texas.
Jordan Northcutt
Facilities Manager
Baptist Health Medical Center
How did you end up in this field? 
Prior to the summer of 2013, my industrial engineering professor emailed a flyer to his students promoting the ASHE Internship Program. At the time, I had no clue that health care engineering even existed or what those professionals were responsible for, but the internship was paid and covered housing so I thought "what the heck, I'll apply." Lo and behold, I was accepted into the internship program. From my first day on, the passion I saw within the staff that I worked for was contagious. Within the first week of working in the hospital, I was completely bought in. 
What do you like about your work?  
My father has been a hospital laboratory director for almost 40 years. Growing up, I was always fascinated by the science behind the work that he does. However, I quickly realized that blood and guts are not my thing. Being a health care engineer allows me the opportunity to work directly in a health care setting, without having to stick anyone with a needle. The feeling of giving back to the community is what drives my passion for my work. I consider myself a part of the patient care team. Even if most of the work we do goes unnoticed and underappreciated , I feel a strong sense of purpose by keeping the building operating and safe for our patients and staff. 
What do you like doing in your spare time? 
Even though I spend my daytime hours as an empowered #girlboss, my interests outside of work include dancing, baking and gardening (in typical southern lady fashion). Especially over the last year, working in health care can be physically and mentally exhausting. When I get home from work, there is nothing more soothing than popping in my earbuds and escaping into a mindless, methodical task. Mental getaways like these allow me to clear my head and recharge to go again the next day. 
Who influenced you the most in your career?
This is cliché, but my mom and dad have been the driving force behind pushing my career since long before I was in the workforce. I am the youngest and only female of their four children. My parents have always been the biggest supporters and advocates for all four of us, but at times they would push me a tad harder than my brothers. Deep down I think they realized early on that I would face more challenges, being a woman in STEM, than my brothers. They've never stopped pushing me to apply for that job, attend that conference, run for that office, etc. I would not have the natural drive to progress this quickly in my career if not for their encouragement. Currently, another person that is keeping me going is my doctor, aka my fiancé, Blake. In any job, it is so easy to pigeon-hole into specific ways of thinking. So often we find ourselves thinking, "If only the clinicians would do [xyz], my job would be a lot easier." Being able to bounce ideas off of someone on the other side of this world helps me see issues in a new light and come to creative solutions, in both operations and design, that I otherwise may not have concluded on my own. And on his side, I'm happy to say that I have successfully converted at least one physician to submit his own work orders, and do it correctly. 
What are some of your goals working the field? 
I have no goals — but let me clarify. I see goals as being the end of a straight road. I want to advance my career with all possibilities on the table. I joke with every boss I've had that don't want to take that person's job, I want to take their boss's job. I never would have dreamed that after only seven years in the workforce I would already be a facilities manager within a large hospital system, and I hope to continue advancing my career as far as possible. However, my dream job, height permitting, would be to become a Radio City Rockette.
Renee Jacobs
Business Development Manager
Healthcare, Distech Controls
Tell us about your work.
How did you end up in this field?
Starting my career in construction project management, my goal was to work for a general contractor. At the time I graduated, general contractors were leery of hiring women. It was extremely difficult to find a job. Fortunately, a general contractor in Kansas City hired me to manage the Lied Center project for the University of Kansas. Additionally, they assigned me to manage some health care projects. The complexity of the health care projects was exciting and challenging at the same time.
Shortly after completing the Lied Center project, Menorah Medical Center hired me to manage a new greenfield replacement hospital project. I spent a total of six years on-site managing the entire project from start to finish while learning how to operate the hospital which I had helped build.
Following that project, my favorite project was a new heart hospital and energy center for Saint Luke's Health System. While managing the construction project, I restructured facilities management and brought it back in-house from an outsourced contract. We also piloted a modified integrated project delivery project, which brought the clinical leadership and construction team together in an elevated capacity. It was my most successful project, attributable to the extensive collaboration.
Since then, I have continued my passion for health care construction and facilities through working in various capacities. Today, it is rewarding to support health care facilities by bringing solutions for better, more efficient operations while leading the health care vertical market for Distech Controls.
What do you like about your work?
Every day is a different challenge, and the field of health care construction and facilities management is very dynamic even in a tertiary capacity. I thrive on leading the health care development efforts for my company by solving challenges for health care customers while supporting their building technologies and sustainability initiatives.
I have had the opportunity to serve on the board of the Kansas City Area Healthcare Engineers and work on several ASHE task forces and committees.
As ASHE faculty, I have the chance to give back by teaching others the intricacies of working in the health care environment and mitigating the risks to patients.
Mostly, I appreciate that my company supports my involvement in ASHE. I treasure my colleagues and friends I have made through ASHE and in the field, people who I call (my second) family.
Tell us about your time away from work.
What do you like doing in your spare time?
Visiting my daughter in Boulder, Colorado tops my list of favorite things. We hike and are foodies, so it is a great place to visit. My daughter is on the dive team at CU Boulder, and I have attended most of her dive meets. My husband Malcolm Sparling and I are the unofficial dive parents for the team and the unofficial team photographers.
Malcolm is the Western Healthcare Manager for STI Firestop, so we get to attend conferences and travel together. We like to golf in our spare time, travel and spend time with family.
Interesting hobbies?
Traveling, experiencing new cultures, and meeting people from other countries. Traveling feeds my other hobby, which is photography.
Tell us how you developed professionally.
What advice would you give your younger self?
Dream big, be tenacious and surround yourself with people who support you. Mentors and sponsors are important, and I attribute much of my success to the individuals who have helped me. They were instrumental in teaching me skills that are not taught in college, like navigating politics and other soft skills.
Networking is invaluable. I am often called the queen of networking, and I attribute much of my success to my ability to connect people.
Limiting yourself to one career path may cause you to miss an opportunity. Do not shy away from trying different jobs and industries throughout your career to find what feels right.
Find ways to give back to others in whatever way suits you.
Lastly, one thing we typically don't talk about enough is taking time for self-care and our families.
What things are on your bucket list?
Riding my Harley to Sturgis, traveling throughout the world, and scuba diving on the Great Barrier Reef. I want to own a house on the beach someday and learn to sail. Last but not least, I would like to serve ASHE as the first female president.
Jenny Nelson
Senior Project Manager,
J.H. Findorff & Son
Tell us about your work:
How did you end up in this field?
While in college, I worked for the facilities/construction department as a co-op student. I realized that the spaces that people live and work in are vital to their enjoyment of their jobs and surroundings. This led me to a career in construction. The company that I worked for right out of college worked in a lot of health care facilities, so I got the opportunity to be a part of many different health care projects. Seeing how valued the built environment is to patients and staff led me to specialize in this type of work. 
What do you like about your work?  
I love helping health care organizations take their projects from concept to beautiful, functioning, maintainable spaces. I also really like the ability to work with teams of people and the coordination needed to get all the different groups (nurses, physicians, patients, facilities, bio-med, IT, contractors, etc.) within the project to work together to make the idea become a reality. 
My favorite project that I led was a new inpatient behavioral health unit. The existing space was incorrectly laid out and not safe for staff or patients anymore. It was designed just before all the new Joint Commission standards were released, so we had to do a lot of research and revising to make sure what we were planning met all current and potential future requirements. We worked with past patients, staff and designers to create a calming and safe space. There were competing codes and interests to work through and issues of items claiming to be ligature resistant when they were not. I was lucky enough to be on the unit when the patients moved from the old space into their new one. You could watch them visibly exhale and see the stress leave (even for a moment) when they walked in. Seeing how much a space can positively affect people has made a lasting impact on me and how I do my job.
What are some of the new challenges in your field?  
With COVID, there have been many challenges. One of the more prevalent challenges with construction projects has been the slowed delivery and rising costs of materials. This is particularly challenging with how funding cycles work in health care. Many projects being approved now were budgeted one to three years ago. The money approved is based off those estimates, and the users expect their project to start the day after they get approval. It is essential to manage timeline expectations with end users and help the finance team understand that the projects might be more expensive and why.
Tell us how you developed professionally:
What advice would you give your younger self?  
I would tell my younger self that it's okay not to have all of the answers before you speak up. I always felt like I had to be a subject matter expert on everything to be heard (in a room of men usually much older than me). As I've gotten older, I've realized that it's okay to ask questions when something isn't clear. It's okay to say, "I don't know, but I will look into it and get back to you." I believe it's important to do research and know the trends and requirements of what you're working on; but there are a lot of people out there that specialize in the things you don't know. Be sure to utilize their expertise as well. Being able to connect people is almost as important as knowing the answers.
Who influenced you the most in your career?  
When I started at my first job, there was one other female project manager. She took me under her wing and became my person. She taught me that you don't have to scream and yell to get things done, that it's okay to admit you were wrong, and how to properly insert yourself into a conversation. Dena was usually one of the quieter people in the room but was so detail-oriented and prepared you knew when she spoke, you needed to listen and follow. She also taught me that my family is just as important as my career, and it was okay to set time to be there for my loved ones. I have tried to emulate the way she created a team people wanted to be a part of, and the care she showed for all people. 
Tell us about your time away from work:
Most of the time I'm not working I'm playing chauffer or coaching my children's activities. My family attends sporting events of all kinds, and we love being out in our community attending concerts and events. I also volunteer on a few boards. I am the current president of our local chapter of Wisconsin Healthcare Engineering Association (WHEA) and a member of the WHEA foundation board. I am also the president of the Oregon, WI library board and am helping lead the way to build a new library for my community.   
Lotoya Beard
Interim Executive Director,
The University of Alabama at Birmingham Birmingham, AL
Tell us about your work.
-What do you like about your work?
I work in hospital maintenance and our efforts to maintain our 1,000-plus bed and six million square foot hospital is truly the definition of teamwork. Each health care department represents a specialty service, but when all the departments work together, you have an effort that provides an excellent environment of care for the patients. To sum it up, I like the joint efforts and comradery that we have as a team to support our health care facility.
Tell us about your time away from work.
What do you like doing in your spare time?
I enjoy spending time with my family riding bikes on a local trail or going anywhere there is a beach!
What do you aspire to do moving forward?
What would your dream job be?
My dream job would be a chief operating officer for a health care organization. I have always considered myself "The Best Right-Hand Man," and I take pride in helping my superior implement their vision and goals.
Anything else we should know?
What is a fun fact about you?
I don't drink coffee, so all the passion and energy my team gets…it's all natural!
Connor Frazier, SASHE, CHFM
Electrical Engineer
HGA Architects and Engineers
San Francisco, CA
Tell us about your work. 
- How did you end up in this field?
I grew up thinking I wanted to be an architect. I also always enjoyed math, and as I got older, physics. Combining these interests led me to study architectural engineering in college where I was introduced to the more complex components and factors of building electrical systems design. At the beginning of my career, I was fortunate enough to work in a variety of market sectors but was particularly drawn to health care projects. Over time I found myself diving deeper into the design process and with the help of a great support network I was able to learn more and experience design challenges that only helped to fuel my passion for the field.
- What do you like about your work? 
There are many parts of my work that I enjoy, but one thing that initially came as a surprise to me was the interpersonal aspect of electrical engineering in a health care facility. We can design an electrical system any number of ways to meet codes and standards, but I value developing relationships and working with facilities groups and other hospital staff to make sure that our design is optimized to best fit their needs and how they would like to operate within the building. I have been lucky to meet some great folks over the years and with their input, guidance, and trust we have developed electrical systems that I feel best support our clients and help to keep patients and staff safe.
Tell us about your time away from work.
- What do you like doing in your spare time? 
I'm an active person, and generally like to do anything outside. I especially enjoy hiking, cycling, and playing soccer. My dog has turned me into a runner and I love being with him, but the jury is still out on whether I enjoy running itself.
Tell us how you developed professionally.
- What advice would you give your younger self? 
Take an active role in learning as much as possible. Don't be afraid to ask questions, people in this industry are eager to share their experiences and insight. If a design seems odd or unique, there is probably a good reason behind it. Try your hardest to understand the challenge that prompted that solution so that if you encounter something similar in the future you are prepared to help your team.
What do you aspire to do moving forward?
- What are some of your goals working the field? 
One of my goals is to help further our field by supporting the next generation of engineers and designers. I would love to be in a place where I can be a resource for, and to help foster skills and excitement in someone new to our field. I have a network of professionals that helped and continue to help me navigate my career and an engineer and dream of providing that guidance to someone else.
Anything else we should know?
- What things are on your bucket list?  
Personally - I love to travel, there are plenty of places both within the country and internationally that I'd love to visit. Professionally – I'd love to be a part of a net-zero design project which only feels like a matter of time.
Joshua Brackett, SASHE, CHFM
Special Projects Manager
Baptist Health System
Little Rock, AR
Tell us about your work. 
- How did you end up in this field?
I ended up working in health care engineering accidentally. I got my degree in fire protection and wanted to be a firefighter, but wasn't able to get onto a department after college. I started doing fire protection work for hospitals at an engineering firm and eventually became the national director of business development. This is when I started getting involved with ASHE. I left to be an executive at a regional fire protection contracting firm, which opened my eyes to issues in the field. 
I worked closely with Baptist Health during that time. When I left the contracting firm, I called Baptist's VP and told him I was starting my own company, and he asked me to apply for a job instead. So, I became the system special projects manager for support services for Baptist. 
That company – Legacy FM – was the brainchild of my wife, Lindsey Brackett. I am the co-founder, and we work tirelessly with our team to solve some of the biggest issues that plague facilities management. Our primary focus is to empower the people that keep our hospitals running through developing custom training and education programs that meet the specific needs of the facility or system.  
- What do you like about your work? 
The best part about my work is all the people that inspire me and lift me up. I am blessed to have a full-time job in a large system where I have a voice in the direction of our growth and improvement and can work directly with our teams to constantly improve. We have now been recognized in numerous capacities by ASHE and that brings me a lot of joy. I really enjoy working with ASHE and that Baptist supports me in this. I also love that I get to work with facilities across the nation that want to empower their teams. Also, because of my background in fire protection engineering, I sit on several NFPA codes and standards. 
- What are some of the new challenges in your field? 
Unfortunately, our field is reactive when it comes to codes. I am constantly trying to do my small part to get new and upcoming code information out there. For example: the limitations that NFPA 70-2020 has put on reconditioning electrical equipment and the upcoming enforcement of NFPA 4, which becomes applicable five years after the adoption of NFPA 101 (2018 or newer edition). Florida has adopted this edition and it goes into effect Jan. 1, 2021.  
Tell us about your time away from work.
- Interesting hobbies? 
Most people don't know that I am a competitive obstacle course racer. I have never podiumed, but I have placed top 10 several times. Someday, I'll get it.
Tell us how you developed professionally.
- What advice would you give your younger self? 
Don't be arrogant. Don't rush.  Don't chase the title or the money. Be happy where you are at. Give, give, give, and expect nothing in return. Never undercut someone else. Don't be afraid to fail. Always stand up for what's right, no matter the consequence. Never, ever give up. When you become stagnate, stir things up and add challenge to help you grow. 
- Who influenced you the most in your career? 
I fundamentally believe that every person that I encounter has something they can teach me. There are so many people who have mentored and shaped and continue to shape me into who I am. I haven't forgotten any of them and they know who they are. If I had to choose a single person, it would definitely be my wife, Lindsey. I am blessed that we work in the same field and have the same passions. She has always helped push me to be better tomorrow than I am today. Watching her grow and being a part of her story has shaped and changed me so much as a person.   
What do you aspire to do moving forward?
- What are some of your goals working the field? 
My goals for our field are enormous. I am not afraid to discuss and work with diverse groups to tackle some of the biggest issues our field faces, such as insourcing/outsourcing ratios, staffing levels, education and training, recruiting and succession planning, skilled trades and discussions about how college isn't for everyone. We have a chance to change our field, and I'm glad to be a part of it with so many other passionate people.
- What would your dream job be? 
I can honestly say that I live my dream job(s) every day. I love what I do within the hospital system and through Legacy FM (one of the coolest things that happened this year was our partnership with ASHE on their YouTube Channel). I am always open to new opportunities that will allow me to continue to grow and give back to our field, but I resolved a while back to be happy in life where I am.
Anything else we should know?
- What things are on your bucket list?  
We do experiences instead of presents in our family, and there are a few of those on on my list. I also plan at some point to run the Appalachian Trail, visit Antarctica and do adventure racing (interested, let me know). And I'd be lying if I said ASHE President wasn't on my list.
Danielle Gathje, SASHE, CHFM
Director of Plant Operations
M Health Fairview
Minneapolis, MN
Tell us about your work. 
I currently work as the director of plant operations for M Health Fairview and am responsible for overall facility operations of three acute care hospitals and one corporate building. Prior to my current role, I held employee safety, emergency management and facility manager roles over a nine-year period working for United Hospital, part of Allina Health. I graduated with a B.S. in biology from The University of Wisconsin - Stevens Point. I received my Certified Healthcare Facility Manager (CHFM) certification through the American Hospital Association (AHA) in July 2015. I am highly involved in the American Society for Health Care Engineering (ASHE), where I sit on several committees and task force groups. I have also served five years on the executive board for the Twin City Healthcare Engineering Association (TCHEA) and am currently the past president for the Minnesota Healthcare Engineers Association (MHCEA).
After graduating with my B.S., I expected to further pursue a career on the provider side of health care, however, I have found an amazing career on the support side. I enjoy the all-encompassing nature in my current career. Over the last 13 years of my career journey, I have continued to find ways to develop both professionally and personally through ASHE by serving on various committees and executive teams. The collaboration provides a profound opportunity and atmosphere to learn from others within my field as we continue to help others within our field to better themselves through education. I am looking forward to continuing that development through an MBA program I started this fall.
Tell us about your time away from work.
I live in Afton, MN with my husband and our two children, Fritz (9) and Gigi (7). We also have two dogs, three cats and one fish. The kids keep us highly active with their sports activities, including soccer, hockey, dance and basketball. We also love to travel to warm weather destinations during the winter months. Recently I have been able to take some time for myself and thoroughly enjoy our Peloton bike to decompress and reflect.
Tell us how you developed professionally.
Joining ASHE so early in my career gave me the opportunity to build my professional network. It connected me with various associate and professional members that influenced me to get involved in the board of my local chapter. As my career has evolved, I have had the opportunity to participate in committees and executive teams, and to speak at conferences, all of which allows our field to collaborate and drive better outcomes through safer building practices.
The three people whom have had a profound influence on my career are Dean Pufahl, Richard Schreiner and Doug Pariseau. It's hard to capture in a short paragraph how the three of them have influenced me. They encouraged me to pursue a career in facilities, supported me in obtaining education, and mentored and supported me as I navigate through my continued development as a facilities leader. It's hard to sum up the appreciation I feel for them, but their influence has been profound.
What do you aspire to do moving forward?
My vision for my career and leadership is to lead within a health care setting, ensuring patient and staff safety, driving quality improvement strategies with integrity and compassion. I may not be a direct patient care provider; however, I do believe I can positively influence exceptional patient care by supporting and driving quality outcomes for the patients we serve.
My passion is taking care of the environment that takes care of the people. This passion takes a network of people to continue to grow with and learn from to find innovative solutions to provide an exceptional environment for the patients and those that care of those patients. As health care is ever evolving with code changes, technology and the expectation to streamline costs while creating value-based patient care, so must we as facilities leaders in the environments that we serve.
Ryan Ollie, PE, CHFM, CEM
Manager of Facilities Operations
Advocate Condell Medical Center
Libertyville, IL
Tell us about your work. 
What do you like about your work? 
I really enjoy solving challenging problems with our team. In health care facilities management, there are rarely ever any dull days.
What are some of the new challenges in your field? 
As innovation provides new resources and process changes for health systems, it is often challenging to adapt our existing workflows to some of these innovations.
Tell us about your time away from work. 
What do you like doing in your spare time? 
When I am not working and have some spare time on my hands, I like to fish. It helps me relax and enjoy the outdoors.
Interesting hobbies? 
Fishing, watching college football (Go Blue!) and watching movies.
Tell us how you developed professionally.
What advice would you give your younger self? 
I would tell my younger self to ignore the naysayers and to surround myself with supportive people.
Who influenced you the most in your career? 
My parents. They are some of the hardest-working people that I have ever known, and I strive to be like them every day.
What do you aspire to do moving forward? 
What are some of your goals working the field? 
I genuinely enjoy learning new skills that enhance my effectiveness as a leader. As I continue to develop in my field, I am always trying to grow as a professional.
What would your dream job be? 
I love what I do right now. If I had to do something else, it would probably also involve helping people.
Anything else we should know? 
What is a fun fact about you? 
My younger brother is way taller than me. I am just shy of 6'3 and he is 6'8.
What things are on your bucket list? 
Before I leave this earth, I want to travel to all of the continents.
Melissa McCain, CHPEW
Supervisor, Quality & Compliance – Facilities Maintenance
IU Health Academic Health Center
Indianapolis, Indiana
Tell us about your work. 
I am the supervisor for facilities quality and compliance for Indiana University Health's Academic Health Center (AHC) in Indianapolis, Indiana. I deal with fire safety and utility systems compliance, which includes overseeing required documentation and working with teams to resolve life safety deficiencies and other safety issues. I also contribute to policy, education and subcommittee work and other projects.
I am also a director of the Indiana Society for Healthcare Engineering and a member of ASHE's Equity/Diversity/Inclusion (EDI) task force.
What do you like about your work? 
What I do now really is a perfect fit for my strengths and the things that drive me: I learn something new every day, improve processes and resolve compliance and safety issues, and no two days are alike in my world.
I'm a passionate person, and I am very passionate about facilities personnel maintaining a physical environment where every patient has a chance to heal; that we – like physicians – "do no harm" and never compromise a patient's environment of care.
I'm grateful to work for IU Health and the AHC and proud of the superior care we provide to thousands of patients every year.
What are some of the new challenges in your field?
My greatest challenge since entering the health care maintenance world has undoubtedly been the proverbial elephant in the room: entering this field as a woman, and a woman who didn't study engineering or have any maintenance experience, was not easy.
I have met many women in our field – both owners and vendors – who share a similar story. And I know there are other underrepresented minorities who experience bias.
Serving on the ASHE EDI task force has given me confidence to stand strong in my role when frustrating situations arise. That is essentially the mission of our EDI task force: to let all ASHE members know they have a place at the table – regardless of their gender, age, race or background – and to ensure they are welcome.
Tell us how you developed professionally.
I was an education major and then spent 15 years in commercial property operations. If you told me 20 years ago that one day I would belong to an organization with 'Engineering' in its name, I would have laughed.
I arrived at IU Health in 2013 as a contractor to work with vendors and the maintenance department to resolve a number of outstanding LS deficiencies before our imminent Joint Commission survey. But I had no idea what even constituted "life safety," what The Joint Commission was and how critical an accreditation survey was.
In seven years, I have learned and done more than I ever imagined. I know from experience it can be daunting when you transition into this world. Serving on the ISHE Board and being an active ASHE member has allowed me to meet others who are also passionate about supporting patient safety, and it's given me the opportunity to help develop meaningful education and training. I've expanded my knowledge and professional growth by learning from others with a wide variety of experience.
Being chosen by one of ASHE's major sponsors last year to participate in ASHE's four-year Leadership Institute was also a great honor and has also expanded my network with many "shining stars"  in our field.
Who influenced you the most in your career? 
My dad, Martin Luther King, Jr., a boss I loved, and a boss I did not love – all for various reasons.
There are of dozens of colleagues who have influenced me since joining this industry. One thing I really love is the sense of community. There's less competition and more sharing of best practices and information than in other fields. The sharing of this information is invaluable – especially during extraordinary times such as the COVID pandemic.
What do you aspire to do moving forward? 
I hope to survey for an accrediting organization and then move on to consulting. I love being able to help others solve problems and implement best practices, so I think those are natural next steps in the evolution of my career.  
I also hope to become the first female president of ASHE.
Tell us about your time away from work. 
I'm mom to three boys: 21, 17 and 16. I love to travel, cross items off my bucket list, ride my Harley, attend concerts, listen to music and read. I'm a huge fan of the St. Louis Cardinals and the Green Bay Packers. I also like to write and send old-fashioned handwritten letters and cards. It's a lost art. 
Nominate an ASHE member
You can nominate any ASHE member who you think is making a difference in the field, such as an exceptional worker, role model or thought leader. Share the story of someone you admire to inspire current members and future professionals, and to broaden the health care field's awareness of who we are and what we do.