ASHE Sustainability for Health Care - Achieving Your Sustainability Goals

Supporting Your ASHE Sustainability Journey
Health care facilities are dedicated to working together to become more sustainable by adopting environmental, social, and fiduciary practices that support healthy, equitable, and resilient environments and communities. In support of its mission of advancing the health of individuals and communities, ASHE provides strategic thought leadership, resources, and programs to support health care organizations pursuing sustainability.
What is sustainability in health care?
In health care, sustainability refers to the integration of environmental stewardship, social equity and fiduciary responsibility to support healthy, equitable and resilient environments and communities over time.
Sustainability in health care is based on a simple principle: Everything that humans need for their survival and well-being depends, either directly or indirectly, on the natural environment.
To pursue sustainability is to create and maintain the conditions under which humans and nature can exist in productive harmony
Why and how does environmental sustainability affect health care?
Problem: The environment contributes to people's wellbeing, contributing to chronic diseases, such as asthma and cancer, or to acute illnesses like heat exhaustion.
Solution: Everyone, including hospitals, needs to be a part of the solution and make changes that will help improve the environment.
Premise: Hospitals can reduce carbon emissions significantly with simple changes, such as reducing surgical waste, reducing toxic chemicals and installing life-saving renewable energy sources.
Reason: Hospital and health systems engaged in sustainable practices are doing so largely because it aligns with their humanitarian and stewardship mission and vision. Becoming a positive force for environmental health leads to human health and wellbeing.
Decarbonizing Health Care Facilities
State and Local jurisdictions across the US are setting environmental sustainability and decarbonization goals and targets for commercial buildings. Buildings, including health care facilities, are being held accountable for tracking their energy consumption and greenhouse gas emissions. This chart displays hospital specific emissions as they relate to departments.
Scope 1

Direct emissions emanating directly from health care facilities and health care owned vehicles.
Combustion of Natural Gas
Combustion of Diesel Generators
Emissions from Refrigerants
Medical Gas System leaks and exhaust
Landscape and misc equipment emissions
Fleet Fuel combustion
Scope 2

Indirect emissions from purchased energy sources such as electricity, steam, cooling and heating.
Emissions from purchased energy
Scope 3

Emissions derived from health care supply chain through the production, transport and disposal of goods and services.
Water Embodied Carbon
Building Product/Supplies Embodied Carbon
Patient Transportation
Visitor Transportation
Staff Transportation
Vendor Transportation
Equipment Embodied Carbon
Supplies Embodied Carbon
Waste
Pharmaceuticals Embodied Carbon
Food Embodied Carbon
Investments
Emissions of Outsourced Services
Hospital Specific Emissions by Department
Facilities
Transportation
Procurement, Clinicians, Clinical Engineering
Environmental Services (EVS)
Pharmacy, Procurement, Environmental Services (EVS)
Dietary
Treasury
All
Emissions Impact by Category
Emissions impact by category related to the data available and the opportunity to mitigate emissions. Items in the upper right quadrant are things we can do now. The data is relatively easy to collect and the mitigation opportunities are significant. Those in the lower left are a bit more difficult to tackle. The Health care field is embracing desiloing and tackling their emissions categories.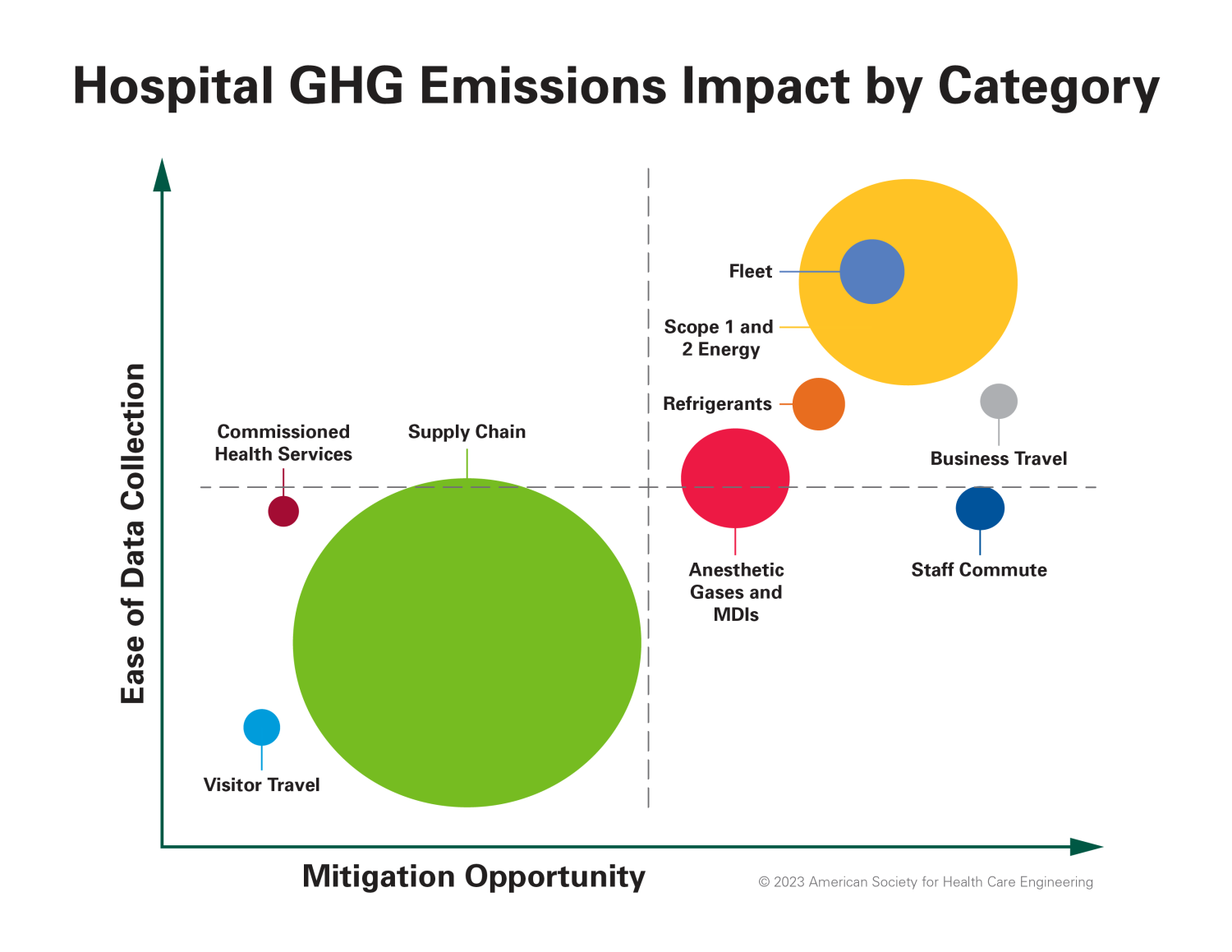 Thank You to Our Sustainability Volunteers
These groups are made up of ASHE Professional Active Members and Associate Members with a strong interest in health care sustainability and decarbonization. ASHE staff members Kara Brooks, Chad Beebe and Austin Wallace have played a central role in coordinating and collaborating with these volunteers.
If you'd like to volunteer, or connect with ASHE staff to learn more how you can contribute your skills, email energytocare@aha.org or visit myASHE to connect.