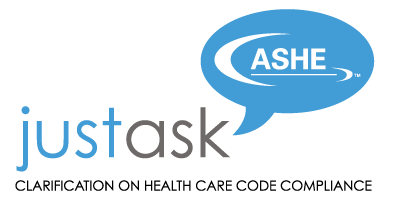 The revamped Just Ask ASHE service is a members-only opportunity to get trusted answers to your compliance questions. Four times a year, ASHE will hold Just Ask ASHE webinars for members. A panel of code experts will discuss the latest compliance developments. The format, similar to the Just Ask ASHE sessions at ASHE conferences, will allow plenty of time for your code questions on topics including emergency preparedness, the latest on CMS requirements, NFPA codes, ICC codes, and more.
Q1 2021 Webinar
Wednesday, January 20, 2021
---
Q1 2020 Webinar
Recorded on Monday, January 27, 2020
---
Q2 2020 Webinar
Recorded on Monday, April 20, 2020
---
Q3 2020 Webinar
During the last session of the ASHE Virtual Annual Conference on October 7, 1,500 attendees tuned into the Q3 Just Ask ASHE session to get their questions answered by ASHE experts. Questions included upcoming webinar topics, ABHR storage, COVID recommendations and updates to codes and standards.
---
Q4 2020 Webinar
Information to come.