Health Facility Commissioning Guidelines
Quality through Collaboration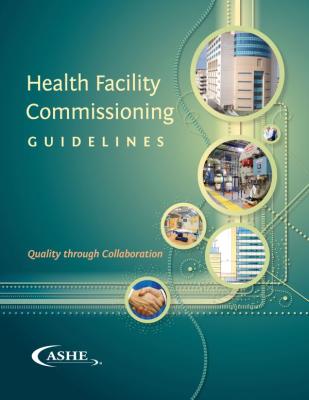 Commissioning is critical to the success of every health care facility project. The ASHE Health Facility Commissioning Guidelines was developed to help health care organizations achieve the facilities they want.
Although there are many excellent commissioning processes and guidelines in the marketplace already, none specifically addresses the complexities of commissioning health care facilities. The ASHE commissioning process—referred to as health facility commissioning (HFCx)—establishes a standard language and process for commissioning health care facilities that are cost-effective and efficient and deliver the desired return on investment.
The ASHE HFCx guidelines assign accountability for actual building performance to the entire project team, including the health facility commissioning authority. The collaboration this approach encourages among project participants improves the project delivery team's ability to deliver a health care physical environment that meets the goals of the health care organization and the needs of its community. The HFCx guidelines provide the project team with a process and a robust set of tools to improve initial project commissioning collaboration, continuing commissioning behaviors and retrocommissioning tactics.
Member: $70.00
Non-Member: $95.00
Publication details:
| | |
| --- | --- |
| Product Code | 055380 (Print) | P055380 (Digital) |
| Pages | 146 |
| Category | Health Care Facilities Management |
| Author | ASHE |
| Published | 2010 |