Area Calculation Method for Health Care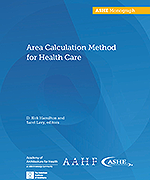 by D. Kirk Hamilton and Sarel Lavy
Square footage data is important to health care facilities for many reasons: it is used in gauging building performance; in planning new projects; and in creating more accurate capital investment estimates. Yet there are currently many different methods for determining square footage in health care departments. This monograph outlines a standard method to calculate the area of health care spaces. This method, based on years of development and vetting, creates much-needed standardization to the measurement process.
Sign Up for Area Calculation Study
ASHE will be developing an ongoing study tracking consistent area measurements of multiple facilities. The goal is to establish consistent data regarding departmental square footages that can be used to establish a number of performance standards. To sign up to participate in this anonymous survey, fill out this online form.