Best Practices Framework for Health Care Cyber-Physical Protection: For the Project Construction Team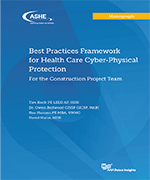 by Tim Koch PE LEED AP; HDR, Dr. Owen Redwood CISSP GICSP, NARI; Ken Hansen PE MBA, UNMC; David Hahn, HDR
Electrical and mechanical systems are exposed to cyber-threat as they become smarter and network connected. A cyber-risk mitigation framework and process guides are provided for the construction project team, which support health care operations.
In the past, building systems were separated or in figurative silos. Today, building systems are leveraged to create smart buildings which provide better outcomes through the integration of IT and building system data. As building systems become more IP enabled, the cyber-attack surface and associated risk increases for both the building system and IT systems connected to the network. Building system components become potential cyber penetration points that must be considered with care. IT methods can be safely implemented and sustained.
This monograph addresses best practices for the design and construction process, rather than addressing any minimum cyber-protective requirements for equipment manufacturers. System-based thinking and planning of network-based building systems is paramount.
Forms for Construction Teams