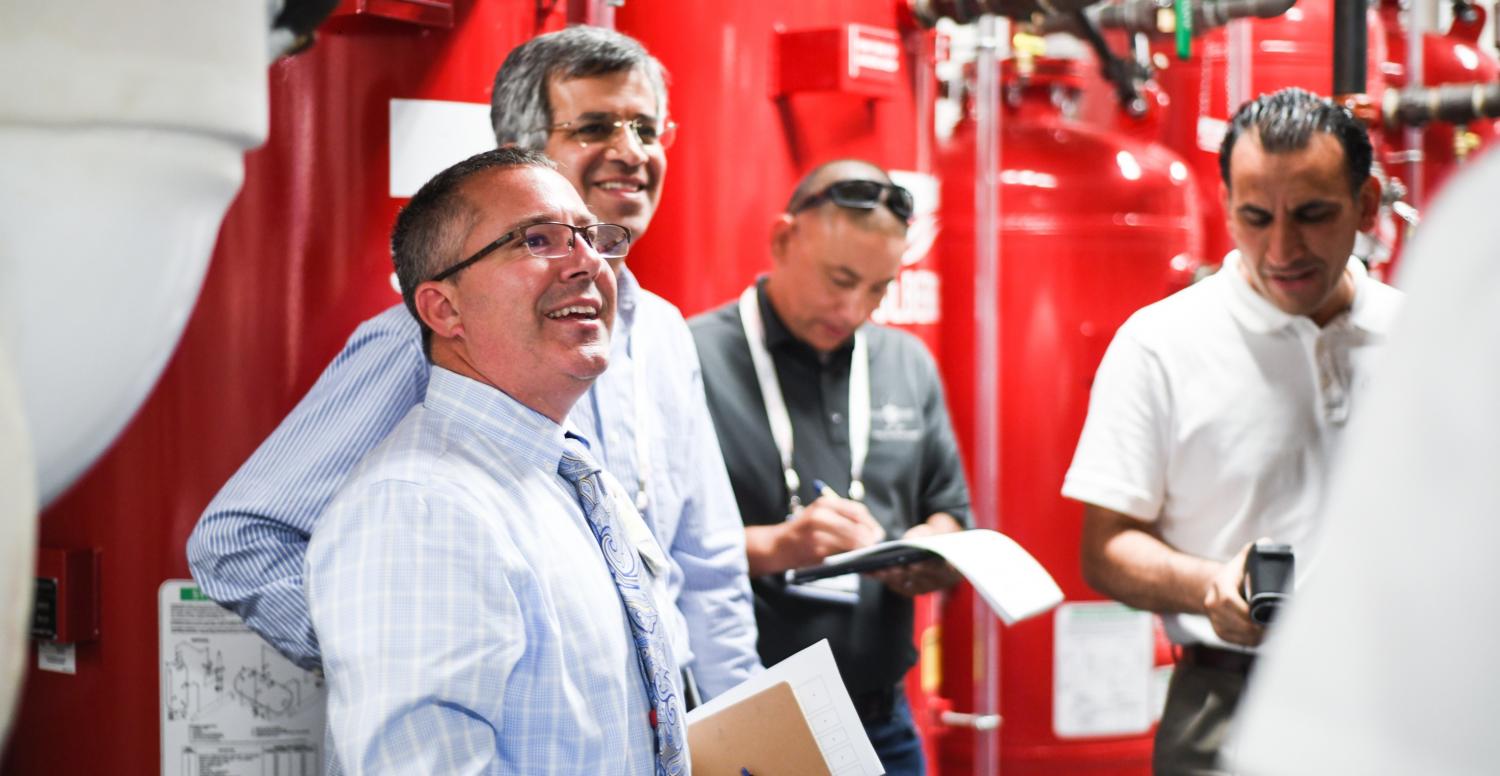 COVID-19 Frequently Asked Questions
Updated: 03/31/2020

Please bookmark this page and check back often as we continue to update this information as needed.
Q: Is negative pressure required for COVID-19 patient treatment?
A: No – the CDC recommendation is to place COVID-19 positive patients in a single patient room and keep the door closed. Additionally, the CDC recommends to:
Limit transport and movement of the patient outside of the room to medically essential purposes.
House patients in the same room for the duration of their stay.
Whenever possible, perform procedures/tests in the patient's room.
Reserve Airborne Infection Isolation Rooms (AIIRs) for patients who will be undergoing aerosol-generating procedures.
Q: Can the SARS-CoV-2 virus become airborne?
A: Studies indicate that aerosol propagation of the virus is possible in the case of prolonged exposure to high concentrations of the aerosols in a relatively closed environment.
Q: What benefit does negative pressure offer for housing COVID-19 positive patients?
A: With the CDC guidance to house patients in the same room for the duration of their stay, limit transport and movement, and perform procedures/tests in the patient's room, the risk of aerosol propagation of the SARS-CoV-2 virus within the patient room increases. Negative pressure rooms will help mitigate the transmission of the aerosolized virus to other spaces by assuring the flow of air from clean to less clean spaces in the facility, helping to protect health care providers.
Q: Should negative pressure be used in spaces that require positive pressure relationships (such as ORs, procedure rooms, etc.) when a COVID-19 patient needs to be treated in such spaces?
A: No. This should be addressed the same as with a TB patient in the OR. Basic recommendations are:
Only medically necessary procedures should be scheduled "after hours."
Minimize staff, and all staff involved to wear N95 or HEPA respirators.
Door to room should be kept closed throughout the procedure.
Recovery should be accomplished in an AIIR room.
Terminal Cleaning should be performed after sufficient number of air changes has removed potentially infectious particles.
Q: What is the best way to create negative pressure in a patient room?
A: This will significantly depend on the design of the patient room and the ventilation system serving the patient room. The ASHE COVID-19 webpage offers different negative pressure room concepts. Some general considerations for the room are:
The room should be a single patient room with a dedicated bathroom.
The return air grill within the patient room should be sealed off from the ventilation system.
The door to the patient room should be maintained closed as much as possible.
Negative pressure should be verified prior to placing the room in service and should be monitored and maintained while the room is in service.
Limit transport and movement of the patient outside of the room to medically essential purposes.
Patients should be housed in the same room for the duration of their stay.
Whenever possible, perform procedures/tests in the patient's room.
Terminal Cleaning should be performed after sufficient number of air changes has removed potentially infectious particles.
Q: Are there requirements that must be met for a negative pressure room?
A: No. Since a negative pressure patient room is not a normally recognized health care space there are not established requirements. The ultimate goal is to achieve and maintain a negative pressure relationship to adjoining spaces to be able to move air from clean to less clean spaces.
Q: Should all contractors and service providers be restricted from working within the facility?
A: During an emergency, it is prudent to restrict access to the facility. Restricting contractors is definitely something that should be considered at this time. However, with the potential duration of this emergent situation and possibility that facility changes may need to be made rapidly, facilities should examine individual access levels for each contractor/service provider based on their specific work and the facility areas needed to access the work.
Q: Are there any enhanced COVID-19 safety recommendations for contractors?
A: Recommendations would be specific to the project or work being provided, but consider restricting contractor access into COVID-19 units, developing a specific check-in/out procedure and identifying what personal protective equipment will be necessary.
Q: What should contractors working in hospitals expect? Are there any additional measures contractors should take?
A: During this situation, contractors should expect circumstances to be dynamic, possibly changing on a daily basis, and that ultimately it may be necessary to suspend all construction activities unrelated to the emergency response. Communicating and working with the project manager and contracting officer at the facility will be essential to assuring that that proper contract procedures are followed and contractor employees are properly protected.
Q: In order to "do no harm," should construction projects be suspended during this crisis?
A: Suspending construction projects should be considered on a project-by-project basis. Consideration should not be limited to the protection of the patients and should include what is needed to protect those working on the project.
Q: At what point should clinical care requirements supersede the life safety requirements that are normally enforced?
A: During an emergency, responding organizations are faced with complex, unpredictable events which could impact patient care and pose the risk of catastrophic losses. Traditional command and control structures of decision-making may need to be revised to accommodate greater flexibility and creativity by response teams. Timely evaluation and decision-making is vital and improvisation becomes a necessary tool to determine the most appropriate response. Yet, during an emergency response it is important to remember that risk assessments can be a great tool to assist in the decision-making process. The use of risk assessments coupled with current information and team communication can help determine the best plan of action.
Q: Since the inspection and testing of fire life safety systems is a proactive compliance requirement, should this service be suspended?
A: ASHE is currently working with AHJs to establish guidelines regarding the ITM of fire and life safety systems and equipment. Once guidelines are determined, ASHE will communicate this information. Regardless, if a delay or suspension is provided, ASHE wants members to understand the importance of these systems. Each organization should evaluate what measures could be implemented to assure the functionality of these systems.
Q: How should an infected area be cleaned and disinfected?
A: Normal protocols for daily and discharge cleaning of isolation rooms prevails (airborne or droplet and appropriate PPE) using an EPA List N disinfectant, adhering to the dwell time. Where visibly and heavily soiled, clean with a detergent solution before disinfecting.
In general, only essential personnel should enter the room of patients with COVID-19. Health care facilities should consider assigning daily cleaning and disinfection of high-touch surfaces to personnel who will already be in the room. Personnel should wear all recommended PPE when in the room. PPE should be removed upon leaving the room, immediately followed by performance of hand hygiene.
After patient discharge, terminal cleaning should be performed. Personnel should delay entry into the room until a sufficient time has elapsed for enough air changes to remove potentially infectious particles per CDC Table B.1. After this time has elapsed, personnel may enter the room wearing a gown and gloves when performing terminal cleaning. A facemask and/or eye protection should be added if splashes or sprays during cleaning and disinfection activities are anticipated or if otherwise required based on the selected cleaning products. Shoe covers are not recommended at this time for personnel caring for patients with COVID-19.
Q: What are the decontamination protocols for occupied hospital public spaces, such as waiting rooms, cafeterias, etc.?
A: Continue to clean and disinfect public spaces like waiting rooms and restrooms following the normal pattern of cleaning high to low, cleanest to dirtiest and emphasize high-touch surfaces such as handles, knobs, arms of chairs, faucet handles, etc. Use of a disinfectant from the EPA List N disinfectant is advised for routine disinfection of public spaces.
Q: We have put a trailer out in front of our hospital to test for COVID-19. Are there special protocol for cleaning and disinfecting this space?
A: The same cleaning and disinfection protocols that would be used for an emergency department or triage area should be followed, with frequencies based on volumes and focus on high-touch areas using an EPA N-List approved disinfectant.
Q: Are there special requirements for COVID-19 trash disposal?
A: No – CDC states "that management of laundry, food service utensils, and medical waste should be performed in accordance with routine procedures."
Q: Are there special disinfection requirements for air handling units that are used to create COVID-19 units?
A: While there are not any additional disinfection requirements for these AHUs, it should be noted that upon terminating the dedicated use of the unit, the entire unit should be ventilated a sufficient time for enough air changes to remove potentially infectious particles per CDC Table B.1, based on the least amount of air changes in any given space within the unit.
Q: Are there special considerations for wastewater and sewage from units that are used to create COVID-19 units?
A: No – CDC states, "Waste generated in the care of PUIs or patients with confirmed COVID-19 does not present additional considerations for wastewater disinfection in the United States."
Q: With the potential shortages of PPE, should disinfection of PPE be performed?
A: Ideally no. Extended use is the preferred method for optimizing PPE supplies. Extended use refers to the practice of wearing the same N95 respirator for repeated close contact encounters with several different patients, without removing the respirator between patient encounters. This type of usage should be determined by the professionals who manage the institution's respiratory protection program, in consultation with their occupational health and infection control departments and with input from the state/local public health departments. For additional information, see the CDC's Strategies for Optimizing the Supply of N95 Respirators.
Disclaimer
This information is provided by ASHE as a service to its members. The information provided may not apply to a viewer's specific situation and is not a substitute for application of the viewer's own independent judgment or the advice of a competent professional. ASHE does not make any guarantee or warranty as to the accuracy or completeness of any information provided. ASHE and the authors disclaim liability for personal injury, property damage, or other damages of any kind, whether special, indirect, consequential, or compensatory, that may result directly or indirectly from use of or reliance on information from this webinar.
Comments, Tips or Questions?
Please fill out this form if you have a facilities related comment or question. You may also use this form if you have a tip you want to share with your facilities management colleagues.