Tip #6
By Clark Reed, U.S. EPA ENERGY STAR®
---
A building is like a treasure chest. The hidden savings can make you wealthy, but you must find it first. Just ask the facility engineers at OSF  Healthcare and Atrium Health. They created teams of energy treasure hunters who fanned out across three hospital campuses looking for easy energy-saving opportunities. They struck gold, identifying more than $350,000 in savings from operational changes and small capital projects like lighting upgrades. Most of the projects had paybacks of under one year and some even had instant paybacks by reducing airflow in unoccupied areas from an HVAC system that formerly operated 24/7/365.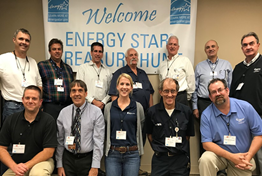 On the Hunt: An energy treasure hunt team at St. Joseph Medical Center, Bloomington, Illinois.
While the main purpose of an energy treasure hunt is to identify opportunities to use energy efficiently, the longer-term value is the start of a culture change. These events begin a behavioral shift in how the organization thinks about energy use. Team work is essential; all employees (not just those in facility operations) are engaged to identify opportunities to reduce energy use. Employee involvement helps create a sense of responsibility for the solutions and sparks employee ownership of energy-saving strategies.
General Electric, one of the early adopters of treasure hunts pioneered by Toyota, trained more than 3,500 of its employees globally to think about how wasted energy and water directly affect their own jobs. That experience motivated the employees to identify more than 5,000 projects that improve energy efficiency, eliminate 700,000 metric tons of greenhouse gas emissions, and save $111 million in operational cost.

Last year, ASHE introduced the concept of energy treasure hunts to chapters competing in the Energy to Care Chapter Challenge. The Environmental Protection Agency's ENERGY STAR program conducted a four-part webinar series that explained how to plan a treasure hunt, including preparation, pre-training, the event, and follow-up. Three hospitals have already completed hunts and are in the process of implementing their findings. More hunts are being planned, including a post-conference treasure hunt on July 18 and 19, 2018 that you can join in Seattle following ASHE's Annual Conference & Technical Exhibition. The deadline to register for the treasure hunt is June 8. For more information on how to plan an energy treasure hunt at your hospital, download a free copy of the EPA's "Energy Treasure Hunt Guide."
About the Author
Clark Reed serves as a national program manager for ENERGY STAR at the U.S. Environmental Protection Agency where he works with commercial building partners to identify energy opportunities, promote energy efficiency best practices, and recognize top performing buildings. He manages the EPA's efforts to establish ENERGY STAR scores for hospitals, medical offices, senior care communities, and most recently, hotels. He is a member of the ASHE Sustainability Committee and a past member of the 2007 ASHE PDC Planning Committee, the LEED Guide for Healthcare, and the Green Guide for Healthcare. Mr. Reed holds a bachelor's degree from the University of Washington and a master's degree from Tufts University.
Have a tip you want to share? We'd love to hear from you. Contact Kara Brooks at kbrooks@aha.org.
---