Academic Research to Support Facility Guidelines Institute & ANSI/ASHRAE/ASHE Standard 170-2013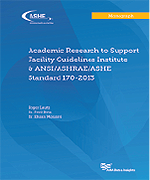 by Roger Lautz, Dr. Fred Betz, Dr. Ehsan Mousavi
The purpose of this study was to conduct a literature review of ANSI/ASHE/ASHRAE Standard 170 Ventilation of Health Care Facilities to determine whether the 886 requirements defined in the Standard (Part 4 of the FGI Guidelines) are supported by engineering and/or scientific evidence. The authors and the Project Monitoring Subcommittee (PMS) assigned the requirements to one of three categories: rational inclusion, clinical inclusion and evidence-based inclusion.

Those requirements categorized for evidence-based inclusion were aligned with related citations. The authors provided opinions on whether the available evidence suggests that the requirement is a basic necessity or an enhanced requirement, requires a change to the Standard, is procedural or requires further investigation.

Overall, 209 requirements (23.6%) were determined to be a basic necessity as supported by rational inclusion, clinical requirements or evidence and six requirements (0.7%) were considered to be enhanced practices. Twelve requirements (1.4%) were determined to be procedural and not subject to evidence. Evidence was found to support a change to the standard for eight requirements (0.9%). The remaining 651 requirements (73.5%) are recommended for further study.