Emergency Management Checklist
The Joint Commission (TJC) introduced changes to the Emergency Management (EM) standards which became effective on July 1, 2022. These changes notably included a reorganization that consolidation former EM standards and introduced a slate of new ones, reducing the overall total from 124 standards to a more cohesive set of 60. This update also includes changes to Environment of Care and Leadership standards that involve emergency management.
Most hospitals already use a crossover worksheet to compare changes in new and existing standards. The attached tool can be used in conjunction with your facility's existing procedures to ensure compliance with TCJ's new EM standards.
Resource
Download the Emergency Management Checklist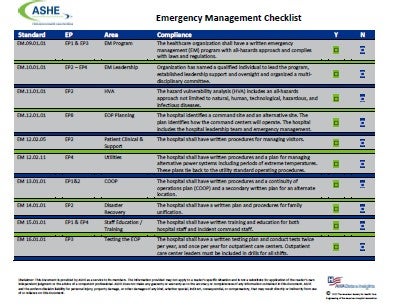 ASHE authorizes the copy, use and customization of this template, by health care facilities for non-commercial use only. In consideration of this authorization, the user agrees that any copy of this document which the user makes shall retain all copyright and other proprietary notices that may be contained therein. ASHE accepts no responsibility or liability for the accuracy or the completeness of the information in this document.