Project Firstline - Outside Contractors and Technicians
You're an expert in your field, but not fixed in a health care environment. Infection prevention and control are key critical in hospitals and health care organizations. ASHE offers resources specific to ventilation and negative pressure rooms to reinforce and build on your knowledge base in these areas.
Inside Infection Control vlog series
Check out the new Inside Infection Control vlog series where CDC discusses critical infection control topics every frontline health care worker needs to know. The short CDC videos feature Dr. Abby Carlson, an infectious diseases doctor with experience on the frontlines of COVID-19 and a Project Firstline staffer. Additional videos are available on Facebook and YouTube.
Coming Soon
ASHE is developing a series of informational videos for contractors and technicians on infection prevention and ventilation covering the following topics:
Can I increase ventilator capacity during an emergency?
Can we convert or use ante-rooms for PE (Protective Environment) rooms or as storage spaces?
Can we disinfect the air in a patient room with Ultraviolet light (UV) technology?
Do recommendations for air circulation and ventilation change during cold winter months?
Don't turn it off! The use of portable HEPA machines ("WHY?" explanation and common questions)
How do we get warm and cool air inside? Why a clinician needs to know.
HVAC and Ventilation – What we measure and why?
I'm a patient, what should I look for when I walk in an exam room to know it's safe?
OSA vs. Recirculation – why it's important for infection control.
Oxygen vaporizers and their function in fighting infection.
Patient turnover is high on some units, how much time is needed between discharge or transfer and admittance into a patient room?
What about ventilation? (How is this applied in settings where windows and doors cannot remain open?)
What about ventilation? (What role does it play in containing spread of infection?)
What is a negative pressure ante-room? (Why and when they are needed; how they are created)
What is an A.I.I. room? What is the difference from other room types?
What is an air particulate counter? How is it used? Why and when should I use it?
What is bipolar ionization, why is it important, and how does it impact infection control?
What is filter efficiency? (What types of filters are available; why and when should they be used)
What is negative pressure – what does it do (and not do)?
Why are temperature and humidity important for the patient healing environment?
---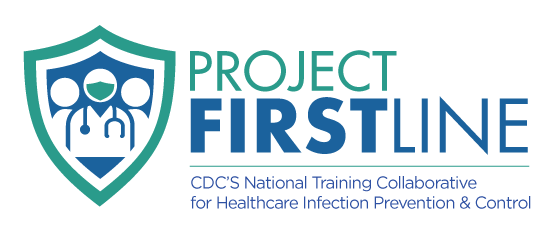 The Project Firstline program is a national training collaborative led by the Centers for Disease Control and Prevention (CDC) in partnership with the American Hospital Association and the Health Research & Educational Trust (HRET), an AHA 501(c)(3) nonprofit subsidiary.
Want to learn more about Project Firstline? Contact ProjectFirstline@aha.org.
Project Firstline is a national collaborative led by the U.S. Centers for Disease Control and Prevention (CDC) to provide infection control training and education to frontline healthcare workers and public health personnel. AHA is proud to partner with Project Firstline, as supported through Cooperative Agreement CDC-RFA-OT18-1802. CDC is an agency within the Department of Health and Human Services (HHS). The contents of this webpage do not necessarily represent the policies of CDC or HHS, and should not be considered an endorsement by the Federal Government.