Health Care Wayfinding Integrates Four Aspects to Become Carefinding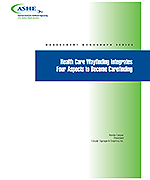 by Randy Cooper, President, Cooper Signage & Graphics, Inc.
Today's health care facility is a maze of similar-looking, seemingly endless corridors in which rooms and other locations are often identified only by medical jargon that is inconsistently used and confusing to both staff and patients. The solution to this situation can be found in effective wayfinding—or, more specifically, "carefinding" because the term "wayfinding" is too broad to apply to the health care industry.
Well-designed structures from airports to corporate complexes utilize conventional wayfinding techniques, and the results can improve the overall flow. But the needs of health care facilities far exceed the need to simply direct people. At their core, health care facilities are built to provide care, and the visitor and patient experience should reflect that purpose. Thus, carefinding—although similar in approach to traditional wayfinding—is much more evidence-based in its design approach and emphasizes the aspects of wayfinding that address the needs unique to medical complexes.
 

Access PDF
Members can download a PDF of the entire monograph