Sustained Performance Award
ASHE's Gold Standard Awards for Health Care Facility Energy Savings
The Energy to Care Sustained Performance Award celebrates facilities accomplishing sustainability goals in their health care organizations to support healthy, equitable and resilient environments and communities maintained over time.
Criteria to win this award include:
Facility MUST be tracking energy and water consumption, as well as greenhouse gas emissions in the Energy to Care Dashboard. Signature verification of data accuracy is required.
ASHE will verify award winners' data for each award cycle.
Facility must have an ENERGY STAR Score of 75 or above OR weather normalized SOURCE EUI equal to baseline (2018) or lower for 3 or more years (2018, 2019, 2021).
How to WIN and be RECOGNIZED?
The Energy to Care Sustained Performance Award is an application only process.
Applications are now closed.
Winners will be notified no later than May 15, 2022.
Winners will be recognized at the 2022 ASHE Annual Conference, July 17 – 20, 2022 in Boston, MA.
Awards, award logos, letter of recognition, and information on purchasing award logo wear will be sent to facilities teams and the senior leader by September 1, 2022.
For the full 2022 Energy to Care awards criteria overview, please download the PDF file at the bottom of this page.
If you have any questions or concerns, please contact the Energy to Care Helpdesk at energytocare@aha.org.
2022 Sustained Performance Award Winners
---
Carilion Roanoke Memorial Hospital
Carilion New River Valley Medical Center
Carilion Roanoke Community Hospital
Carilion Rockbridge Community Hospital
Aurora Sinai Medical Center
Aurora Medical Center Oshkosh
Aurora St. Luke's South Shore Medical Center
Aurora Sheboygan Memorial Medical Center
Aurora Medical Center in Summit
Aurora Medical Center in Grafton
Aurora Medical Center in Burlington
---
Track Your Eligibility
All facilities participating in the Energy to Care Dashboard are eligible to win an award. Award Progress can be viewed on the home page of the dashboard through the following widget.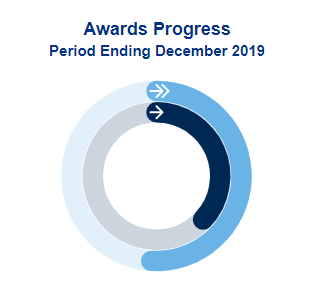 Key Resources