Innovative IV Pump Placement
In an effort to reduce personal protective equipment, a suggestion has been provided to move IV pumps outside of the patient room as shown below and extend the tubing to the patient. This will help staff tend to the IV pump without the need of personal protective equipment.
This checklist may help hospital facilities professionals assist in relocating patient equipment from negative pressure rooms to avoid repeated entry into the room to check on patient equipment. There may be other equipment that can be placed outside of the patient room. Verify with facilities and others before moving any equipment.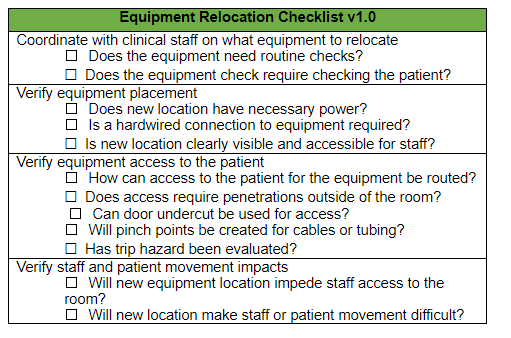 Disclaimer: This information is provided by ASHE as a service to its members. The information provided may not apply to a user's specific situation and is not a substitute for application of the user's own independent judgment or the advice of a competent professional. ASHE does not make any guaranty or warranty as to the accuracy or completeness of any information contained therein. ASHE and the authors disclaim liability for personal injury, property damage, or other damages of any kind, whether special, indirect, consequential, or compensatory, that may result directly or indirectly from use of or reliance on this document.