COVID-19 Ventilation Guidance Efforts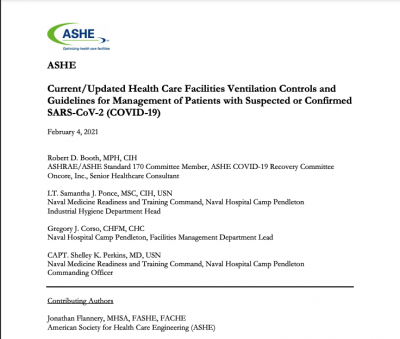 The purpose of this document is to review and compile the current recommended controls for ventilation systems in treatment and isolation areas in health care facilities in regards to responding to the COVID-19 public health emergency. A task force from the Naval Medicine Readiness and Training Command and ASHE members reviewed recommendations from the Centers for Disease Control and Prevention (CDC), the ASHRAE Epidemic Task Force and the American Society for Health Care Engineering (ASHE) COVID-19 resources.
These guidelines provide a compilation of the current literature review of the aforementioned recommended practices along with a review of ANSI/ASHRAE/ASHE Standard 170-2017, Ventilation of Health Care Facilities, recommendations regarding controls pertaining to heating, ventilation and air-conditioning (HVAC) systems in health care facilities. Additionally, it addresses design and implementation of controls to limit potential exposure to staff and others through HVAC systems.