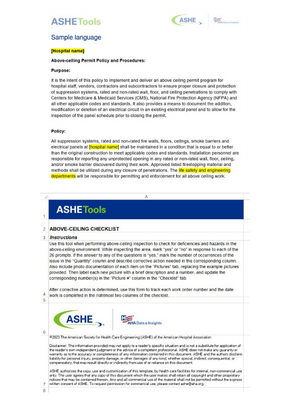 Use these tools to ensure above-ceiling work in your facility is safe, effective and compliant.
To properly maintain the health care physical environment, facilities professionals must be able to access the utilities and wiring routed above the finished ceiling. However, this may disturb dust and debris located above the ceiling. While this may not impact most individuals, it can be a danger to certain patients. These tools can be used by facility managers to help develop and carry out a robust above-ceiling access program.

The Above-Ceiling Checklist can be used when performing inspections to check for deficiencies and hazards in the above-ceiling environment. The tool lists the most salient elements to look out for when conducting an inspection, as well as areas to catalog photo documentation and work order numbers.

Use the Above-Ceiling Work Permit Policy Sample as a template to develop language for a policy at your own facility.

Access to these tools is a benefit of ASHE membership. Click here to join ASHE!