What if… We Cared for Patients in a School?
COVID-19 Response Concept Study
April 2, 2020
By:
Jason Schroer, AIA, ACHA, LEED AP
jschroer@hksinc.com
713.969.4300
Stan Shelton, MSOD
sshelton@hksinc.com
214.969.3116
Jennie Evans, RN, MBA, EDAC, LSSGB, LEED AP
jevans@hksinc.com
214.969.3159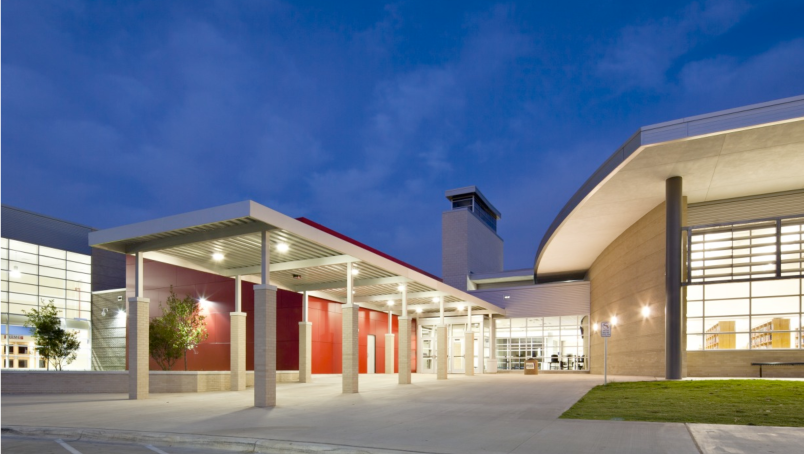 Contributors
HKS
Luis Zapiain, Arq.
Sergio Saenz, Arq., Intl. Assoc. AIA
Kirk Teske, FAIA, LEED Fellow
Mukesh Patel, AIA, NCARB
Ana Pinto-Alexander, RID, IIDA, EDAC
Mary Alice Palmer
Norman Morgan, AIA
Alison Avendt, OT/L, MBA
Mazzetti
Walt Vernon, PE, LEED, AP, EDAC, FASHE
Jim Crabb, PE, LEED AP
Brian Hageman, LEED AP
Sarah Jane Madole, BSN, RN, EDAC
Additional Subject Matter Expertise provided by:
Bob Winter, PE
Robert.a.winter@imegcorpcom
312-931-9701
Mike Zorich, PE, LEED AP
Michael.c.zorich@imegcorp.com
309-788-0673
During the current COVID-19 crisis, HKS has convened a series of think tanks to quickly study and discuss alternative care sites for low acuity COVID-19 patients. HKS has experts in many building types, including health, and together we are uniquely positioned to explore alternative building conversion solutions beyond hospitals.
The predicted hospital bed shortage
We should start by stating the obvious: the current COVID-19 crisis is unprecedented in modern times. If predictions are even partially accurate, our best preparations will still fall short of the need for hospital patient beds to handle the potential influx of people needing care.
According to The American Hospital Association, there are approximately 920,000 staffed beds in the U.S. Some studies have estimated that five to nine million infected people in the U.S. may need to be hospitalized, a third of whom might require intensive care.
While all people who get infected will not need isolation and close physiologic monitoring, many will need medical care at some point during the pandemic. This will likely require more hospital beds than are currently available nationwide and in individual cities. The gaps between current capacity and potential demand will stretch our healthcare system beyond anything imaginable.
One of the most recent projections by the Institute for Health Metrics predicts a shortage of more than 1,000 beds in the United States and a shortage of more than 15,000 intensive care beds.

What if we could utilize schools for COVID-19 patient care and sequestration?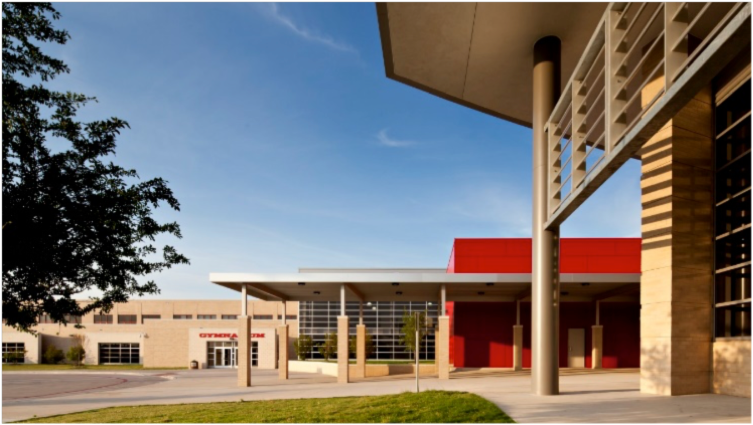 Knowing that our current U.S. hospital bed capacity will likely fall short, we need to identify alternatives to help offload the bed demand from our hospitals. What if we could utilize schools for COVID-19 patient care and sequestration?
As we dive into this exploration, we should start with some assumptions that will help define the rationale and potential processes required for this alternative use of a school.
It would be very difficult, if not impossible without time-consuming major renovations, to convert a school into a fully operational hospital that meets all licensing and compliance requirements. Such a conversion would not be practical or quickly done, and it would be very costly.
However, a school can be converted to patient care space that is not quite a "hospital."
After considering many types of schools, we determined that a medium to large high school provides the best opportunity to quickly create and support functional patient care spaces that will be needed if the virus spreads to predicted levels. Speed of conversion will be key and is core to this option.
Why high schools are a good option
They are found in almost all communities, with generally easy-to-access sites.
They are big enough to house between 200 and 500 COVID-19 patients, depending on the facility and the ancillary spaces available (such as gymnasiums).
They have wide corridors and use mostly non-porous, durable surfaces to maintain cleanability.
They are designed for adults, unlike their elementary school counterparts.
They typically have centralized MEP systems that can provide a higher quality of control to spaces.
They have many spaces that are easily convertible to patient care and support requirements.
The conversion requires minimal intervention and/or construction and can be done quickly.
School to Patient Care Use: potential room-use conversions
| High School Conversion | Patient Care Use |
| --- | --- |
| Classrooms | Patient ward, command center, office space, support spaces, meeting rooms, staff sleeping |
| Science labs | Stat lab, point-of-care testing, pharmacy, patient care |
| Cafeteria | Break room, meal prep for patients and staff |
| Library | Command center, office space, meeting room |
| Gymnasium | Larger patient ward |
| Locker rooms | Staff/patient showers |
| Bathrooms | Gang toilets |
| Laundry | Washing frequently used items |
| Dock | Loading/off-loading supplies |
| Drop-off/bus lanes | Ambulance staging, drive-through testing and flexible site flow |
The Centers for Disease Control (CDC) has provided guidance regarding which COVID-19 patients are appropriate for alternative care sites.
Facility Types
Patient Type
Patient Care
Facility Options
Tier One* Isolation Sites

COVID-19 who do not need medical attention but cannot stay at home
Exposed to SARS-CoV-2 and without symptoms

Limited monitoring, care for themselves

Private room and bathroom suitable in hotel or dorm
Tier Two*

COVID-19 convalescing care after hospital discharge

Minimal monitoring for such things as blood glucose
Minimal level of assistance with activities of daily living

Open layout (school gymnasium)
Tier Three

Require respiratory treatment with medical gas support and possible mechanical ventilation

Dependent on available of space in local jurisdiction
COVID-19: Appropriate Care in a School Setting
A high school can easily be converted to a Tier One or Tier Two alternative care site. Patients with high risk factors, are over age 50 and pre-existing conditions would be best suited for the hospital (Tier Three). As a Tier One or Tier Two site, the school solution is intended to preserve hospital resources for the sickest patients.
Assessing patients that present symptoms will be essential to determine the best candidates for care and sequestration in alternate care facilities like a school.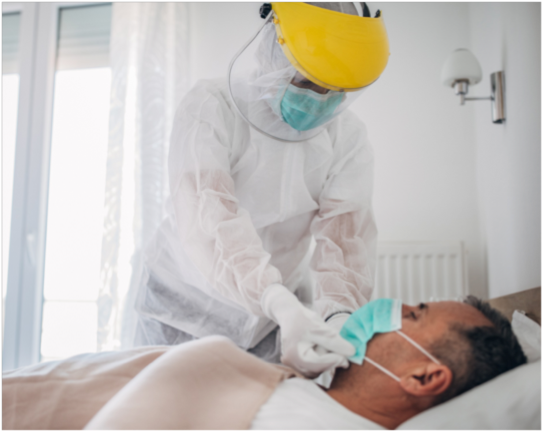 Patients most appropriate for a COVID-19 school stay:
| | |
| --- | --- |
| 1 | Suspected of being a COVID-19 carrier |
| | |
| --- | --- |
| 2 | Confirmed COVID-19 positive, but not presenting severe symptoms |
| | |
| --- | --- |
| 3 | Confirmed COVID-19 positive, live with high-risk population |
| | |
| --- | --- |
| 4 | Confirmed COVID-19 positive, live alone and can't care for oneself |
| | |
| --- | --- |
| 5 | Recovering from COVID-19 but still require care or sequestration |
| | |
| --- | --- |
| | They would be ambulatory -- they would not need ventilation or machine assisted breathing and they would not require oxygen or only need minimal oxygen assistance. High risk patients should be cared for at the hospital. |
| | |
| --- | --- |
| | In the case of pediatrics, this study recommends that children with severe cases be treated within hospitals due to the likely need of specialized care and patient support. |
Assessment/Testing/Triage
Many hospitals are looking at alternative locations for assessment and testing of potential COVID-19 patients away from their hospitals and emergency departments. For the purpose of this scenario, we are assuming that some form of assessment, testing and/or triage is happening on the school grounds. This could be drive-through testing. Now that quick tests (within an hour) are available, the assessment and determination can be almost immediate.
Patients presenting symptoms will need to be assessed and tested to determine if they should be sent home, sent to the hospital or remain on-site. The flow and circulation of the potential patients must be well-planned to limit cross-contamination.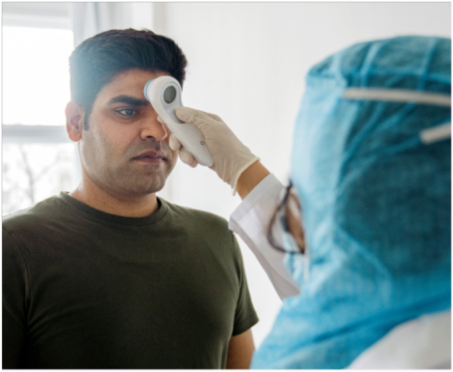 Triage/Assessment Flow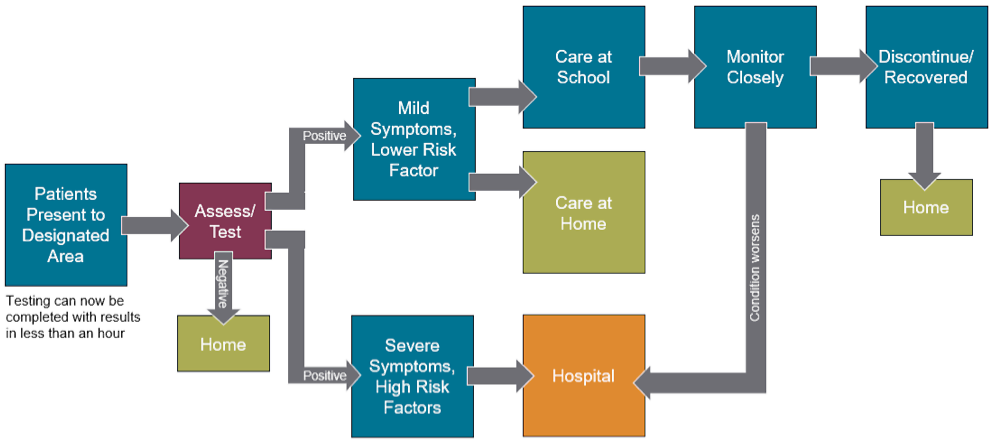 Assessment/Testing/Triage
The classroom conversion for low acuity patients can be rather simple with a few considerations:
Remove non-essential furniture to allow for more caregiver space and patient beds/cots. Desks and tables can be moved to unused classrooms or ancillary buildings. If there is enough space in the room, desks may be used as bedside tables.
Utilize features already in the classrooms, such as a telephone that connects to a central office, Wi-Fi connectivity, computers and overhead intercoms. 
Hospital beds would be optimal, but other forms of reclining such as stretchers or cots are likely more available. Recliners may also be used in the case of a bed shortage.
If additional observation is necessary, consider off-the-shelf Wi-Fi camera systems that are easy to install and can be monitored remotely. 
Each patient area in the classroom should be approximately 105 square feet, so a typical classroom can house six patients.
Infection control within the classroom is paramount to contain further spread of the virus. Most classrooms have hard-surfaced flooring that is cleanable and can be used as-is. If carpet is present and time or resources prevent removal, a barrier should be considered to separate the carpet and patient care. Carpet protection tape is readily available and can be used for this process. If time allows, carpet can be removed completely, exposing concrete flooring (which will have to be cleaned before use).
Stations for hand cleansing and access to personal protective equipment should be provided near the entrance to each room if possible. Portable sinks can be used if available.
Post-COVID-19 use, all carpet should be removed and replaced before the school returns to standard operations. See Center of Disease Control (CDC) for cleaning guidelines for alternate sites.1
1
Alternate Care Sites and Isolation Sites - Infection Prevention and Control Considerations for Isolation Sites and Alternate Care Sites
|
https://www.cdc.gov/coronavirus/2019-ncov/healthcare-facilities/alternative-care-sites.html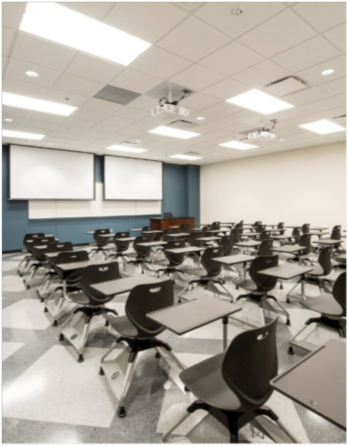 Air Quality Considerations
Some classrooms are served by individual room units, typically fan coil units or packaged terminal air conditioners (PTAC), which recirculate air within the room. Fresh air is typically provided by a separate dedicated outside air system and dehumidified air is directly ducted into the room or the fan coil. However, some older facilities may depend on drawing outside air directly through the PTAC.
Most schools are served by centralized four-pipe systems that can be better controlled to serve the spaces. An average hospital room has approximately six changes of locally recirculated air and less than two changes of outside/exhaust air per hour. Conversely, classrooms generally have 10-12 changes of locally recirculated air and at least three changes of outside/exhaust air per hour, which helps to clean air and would serve patient care areas well. More outside air helps to dilute infectious particles that may be in the room air, providing an advantage to classrooms housing patients. In some areas of the country, 10-12 air changes are higher than what is typically noted. In the Rocky Mountain region, the air change rate is closer to 7-9 air changes per hour. The outside air is consistent at 3 air changes as noted.
Are there any conditioning requirements that need to be reviewed, specifically thinking about temperature and humidity. There are many schools without cooling, especially in rural areas, that may not present as ideal candidates if conditioning is required.
If the school and individual classrooms are not served by dedicated recirculation units, and rather a centralized HVAC system, it is critical to confirm the system does not recirculate air between patient care areas and staff area. If air is recirculated to other areas evaluate the ability to operate central systems at 100% outside air.
Achieving negative air pressure is often desired for hospital rooms that are used for infectious patients. Most school HVAC systems are not able to create a negative pressure in the classrooms, but secondary temporary systems can be used to a supplement exhaust and create negative pressurization if required. If determined necessary, since classrooms are predominantly on outside walls with windows, they can be retrofitted with exhaust by removing a windowpane and placing an exhaust fan to the outside. The CDC is not requiring SARS-CoV2 patients be placed in negative pressure or airborne infection isolation rooms but they should be considered if available. The CDC is recommending negative pressure rooms be reserved and available for patients undergoing aerosol-generating procedures. If the option of establishing negative pressure spaces is pursued, it is critical to ensure the exhaust discharge is away from any outside air intakes and any accessible areas. Ground floor classrooms with exhaust discharges at grade level are not recommended. Best practice would be to be 30 ft away from intakes and HEPA filtered if possible.
Gymnasium Configuration
In the case where classrooms will not be utilized for patient care or there is a need for a for higher patient observation area in addition to classrooms, we recommend using the gymnasium(s). Advantages include:
Spaces can easily accommodate a ward configuration where beds are cohorted in small groups. For general planning purposes, one bed per 190 square feet can be used with appropriate spacing to also accommodate decentralized nursing care support spaces.
This type of configuration allows flexibility for more efficient staffing ratios.
Other support spaces such as a point-of-care testing area, stat lab, central medication storage, supply storage, waste staging and a control center could be accommodated in connected/adjacent classrooms.
Gymnasiums tend to have four to five changes of locally recirculated air with three changes of outside/exhaust air per hour. Temporary ducting from central systems to the patient wards/units may be necessary, depending on configuration.
Access to toilets, showers and sinks could be challenging because gyms are typically supported by large gang toilet configurations in locker rooms. Depending on the location and adjacency, planners may need to consider mobile toilets within the gymnasium/ward for closer proximity to and segregation of infectious patients.
Toilet use is a potential source for significant contamination. Toilets must be cleaned frequently. Bedside toilets and bedpan use will add to the workload for already-overloaded staff and increase the potential for contamination with fecal matter and urine.
Bathing and hygiene could be accommodated at the bedside using temporary screens. Locker room showers could be used via a controlled path for ambulatory patients if the pathway to and from these rooms does not cross contaminate other traffic. 
Another option within the gymnasium is to set up prefabricated patient care tents or units that can be self-contained. Some provide options for showers, toilets and sinks, if these can be connected properly to domestic water and power. 
Mobile electric generators should be considered to support the gymnasium function by providing additional power for medical equipment and other patient care necessities. Furthermore, it may be advisable to provide backup electrical power through mobile generators connected to the facility's central electrical system to prevent disruption of operations.   

Command Center Considerations
A centrally located command center will be essential to maintaining operations and organizational efficiency of facility in this scenario. A library would be ideal because of its large open area. Or, consider administrative offices that may have connectivity to classroom communications and access to office support equipment such as computers, copiers and printers.
It is likely that there will be a shortage of qualified staff to support this emergency scenario. Alternative teams will be necessary because the standard caregiver-to-patient ratios will not be achievable.
An additional benefit of a school conversion is that some classrooms can be reserved for staff able to remain on-site after their shifts, thereby reducing the likelihood of community spread. Food service can be provided to support staff needs.
Using an electronic medical record system may be difficult due to lack of hardware, remote connectivity to primary systems and staff training requirements. Consider using a paper medical record system, often stored at the door/entry to each classroom or at the foot of the bed. Conversion to electronic data can come later.
School to Patient Care Use: potential room-use conversions
Within the Organization:

Three options for "extra" staff
1. Deploy to front line
2. Backfill other rolesto free that staff to front line
3. Help train/coach/educate staff taking on new tasks

Relax "top of license"
For all the effort in keeping folks top of license, deploy teams as utility players flexing up and down; this includes blurring specialty lines and location silos
But — be creative on non-clinical
The one exception for "top of license" would be finding anything non-clinical that can be shifted away from clinical staff to non-clinical staff and volunteers
Beyond the Organization:
Evaluating staffing across regions
Leveraging existing partnership infrastructures (i.e. ACOs, CINs, and health plan collaboration) to track available staff across organizations
Revisiting retirees and students
Asking to delay currently announced retirees, reviewing last two years of retirement, and elevating local school capacity to help
Drafting staff from closed business
As schools, sports teams, and colleagues shut down, drafting trained medical personnel into health system and physician practice roles
Source: Advisory Board
Closing Thoughts
This exploration is meant to ask the question, "What if?" and investigate some ideas that could be considered when facing a conversion scenario. It must be acknowledged that this study is far from comprehensive. It does not identify or resolve all the issues that may arise in a school conversion scenario. Nor does it consider higher education affiliated facilities such large classroom buildings or dormitories.
Systems may need modification that were not addressed as part of this study. While most high schools share the same programmatic spaces, they often differ in configurations and will require individual assessments. This analysis sets the groundwork for deeper dives into these topics, each of which will require additional study and consideration.
This is an approach that is based on the ability to convert a non-hospital building for the use of patient care very quickly – a high school offers this opportunity. With the right resources, team and availability of beds and equipment, a conversion timeline could reasonably be completed within seven days. A conservative timeline would put a conversion between 10-15 days.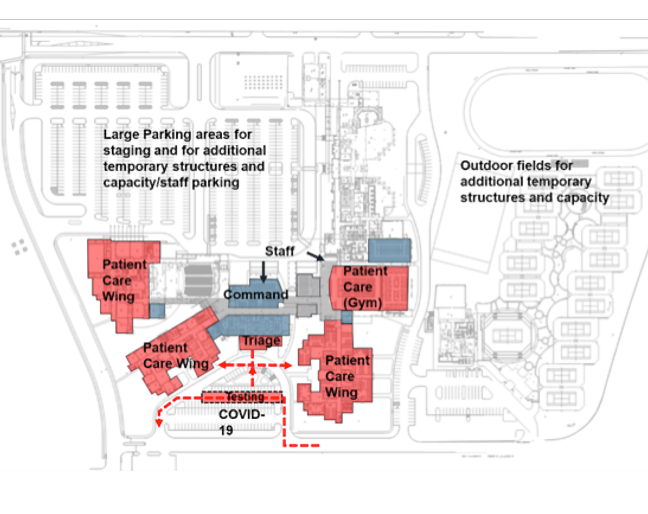 Key Insights
High schools are easily accessible and typically within most communities and rural regions.
High school campuses afford flexibility across the site with larger open fields and parking areas. This also provides physical and perceived distancing from neighborhoods.
Site flows and entrances can be separated to minimize the potential for cross contamination.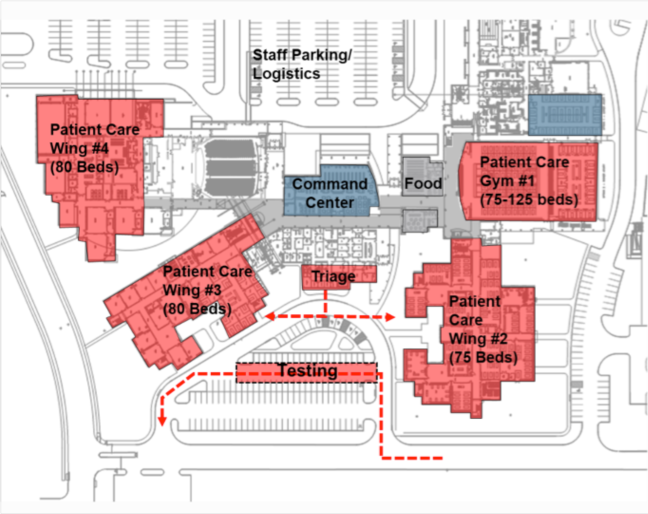 Key Insights
The advantage of using a high school for temporary management and care of patients is the opportunity to flex for increases in census as well as adapt for variations in acuity.
Testing can be done from vehicles and triage can have holding areas for different classifications of patients.
Classroom wings can be activated in phases as needed.
Sub-control desks can be established in each wing to maximize security and environmental safety of staff and patients.
Staff may sleep or rest in second floor classrooms.
Different patient acuity levels or genders may be cohorted in separate wings.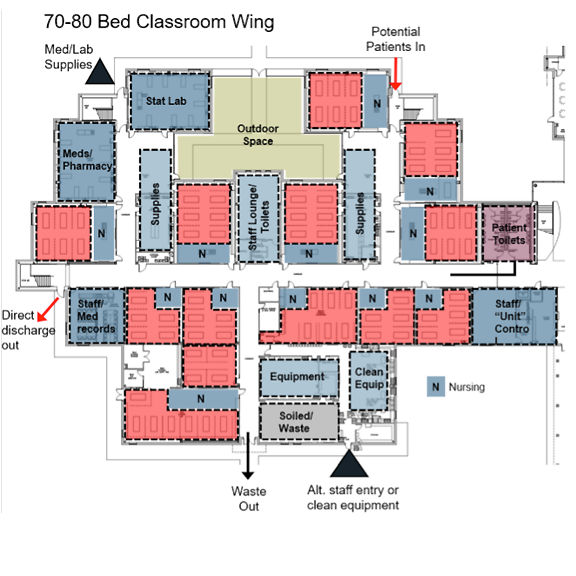 Key Insights
Schools provide a viable solution to manage low acuity COVID-19 patients without a strong public stigma after patients are discharged.
Ventilation requirements in a classroom are close to hospital standards due to the number of students in a typical classroom.
Schools have corridors six to eight feet wide, which will accommodate patient travel and mobile equipment stored in hallways if necessary.
Individual classrooms provide a contained ward-like setting that promotes visibility and manageable assignments. Security cameras in rooms connected to a hand-held device or the in-room computer permit nurses to manage patients in more than one room.
Existing technology in the room provides staff with access to information, as necessary. Emergency communication attained through cell phone or radio.
Gang toilets separated for male and female patients.
Ample classroom space permits additional patients or space for support needs such as locked medication storage, administrative and documentation papers, waste holding, equipment cleaning and other functions.
Staff respite area separate from patients is centralized and has private staff-only toilets.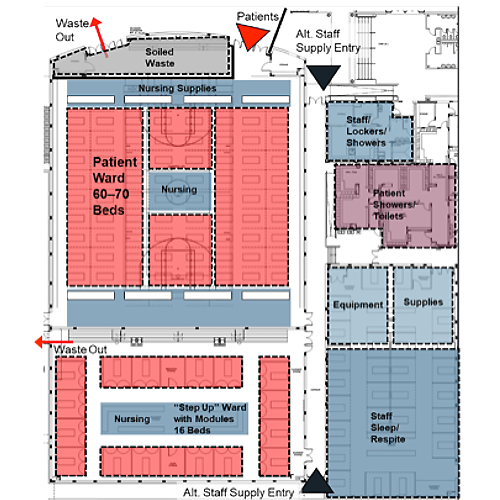 Key Insights
Gymnasiums can be occupied by low or higher acuity patients depending upon the required level of electrical and medical gas support.
The additional ward space and the large floor plan provide space for multiple patients who are COVID-19 positive and to cohort patients who are recovering yet still positive. Bleachers can be retracted to provide more floor space if necessary
Caregiver space is on the periphery of the gym. The layout can be modified to provide more caregiver space as necessary.
Touchdown/perching stations closer to the beds is possible for better visualization and documentation.
Shared showers and toilets provide the ability to segregate different patient genders and levels of acuity.
Ample equipment and supply space provide the ability to flex the support space needs easily with an increase in the level of acuity.
Movement of patients and materials is safe and easy because of corridor width
Multiple entry and egress paths provide easy loading and unloading of patients and materials with separation of soiled materials.
A laundry may be available for smaller, frequently used items. Linen would be removed, processed and returned for storage in the clean supply areas