Region 7 Newsletter: Spring 2022
REGION 7 ADVISORY BOARD MEMBER
Michael A. Hatton, MBA, CHFM, FASHE
Vice President Facilities Engineering/Construction
Memorial Hermann Health System
Houston, Texas
What's New in Region 7
With COVID subsiding, we are all out and about again, and I recently participated in several programs including presenting the ASHE update for the Texas Association of Healthcare Facilities Management (TAHFM) chapter at their March Annual Meeting. This event had a record-breaking attendance of over 550 members and was headlined by such speakers as Lt. Colonel "Waldo" and his "Never Fly Solo" leadership lessons, and Dacia Coffey's presentation regarding social media and her version of "corporate caffeine" for the avowed introverts in the audience. Lori Elizarraraz (TAHFM president) and her team really put on a great conference this year.
On another topic, it was great to participate in ASHE's in-person Advisory Board meeting in New Orleans that was held in conjunction with the PDC conference – good content, nice to see old friends and network once again. I also will be traveling to both Oklahoma and Arkansas during April to provide their chapters with an ASHE update, share a few tidbits of what I do every day, and network with neighbors for the first time since the pandemic arrived back in 2019 – it's been awhile! Can't wait to visit in person with Maggie, Kari, Tawni and others in OKC and then run over to catch up with Anna, Jordan and the Arkansas group in Hot Springs.
From a codes/standards perspective, Texas is in the final stages of refining their version of the FGI design guidelines with the final document scheduled to be published sometime this fall or winter. The TAHFM Annual Meeting had a well-attended general session presented by local architects/engineers that described the current process that the state is working towards to get to its finished product – I assume more news to come as summer/fall approaches.
Remember, it's not too early to register for the 2022 ASHE Annual that will be held in July of this year – great town and great food, and the educational content will be well worth your journey to the far north – and, of course, cheering for the Astros when they are up in Fenway Park with those Red Sox (Baseball bias)!
Reflections of TJC Survey Seasons Past
Wow, we just completed the final Joint Commission triennial survey of our 15 acute care and specialty hospitals as well as our licensed retail and ambulatory occupancies throughout the Houston, Texas metro area! It was quite a whirlwind process (as always) and we had very capable Life Safety/EOC surveyors from The Joint Commission review our facilities consulting on Memorial Hermann's physical environment as part of our performance improvement process.
I was very impressed with the knowledge base of our surveyors and their past experiences in health care facilities management, as well as the remarkable consistency they brought to the process. We interacted with six different surveyors at different sizes/types of facilities, and it was refreshing to see
this consistency along with the teaching/mentoring approach to survey. This approach was very beneficial – especially for some of our less experienced facility management teams.
How have your survey outcomes been in this past cycle? It would be great to share any unique outcomes and areas for improvement, and l would welcome fielding questions, comments or concerns from membership.
Feel free to contact me anytime, and I will be more than happy to share other specifics and focus areas from our recently completed triennial survey cycle.
P.S. Congratulations to our recent Region 7 Certified Healthcare Facility Managers (CHFMs): Michelle Vargas (TAHFM), Toney Robinson (AAHE), Brandon Talley (LSHFM) and Ricky Trice (TAHFM) – kudos! Remember, for any of you first time participants who want to sit for either your CHFM or Certified Healthcare Constructor (CHC) exam certification, waivers for the test fees are typically available. Just reach out to me, and I will circle back with our ASHE leadership to inquire on your behalf.
P.P.S. This new "baby" will be ready for patient care in less than four weeks. Final regulatory inspections are happening as I pen this newsletter update. Love those accent lights – great job team!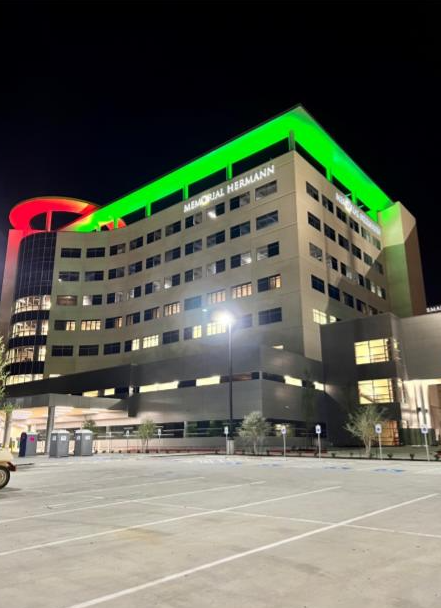 Best Regards!
Mike