Promotional Opportunities
Aligning with the American Society for Health Care Engineering (ASHE) will strengthen the credibility of your organization and will showcase your commitment to leading efficient and sustainable initiatives for health care facilities.
ASHE is a professional membership group of the American Hospital Association. Its 12,500+ members are a diverse network dedicated to optimizing the physical environment of health care facilities. ASHE is the leading membership group and resource for health facility operations; maintenance; engineering; planning, design, and construction; and codes and standards affecting hospitals and clinics.
---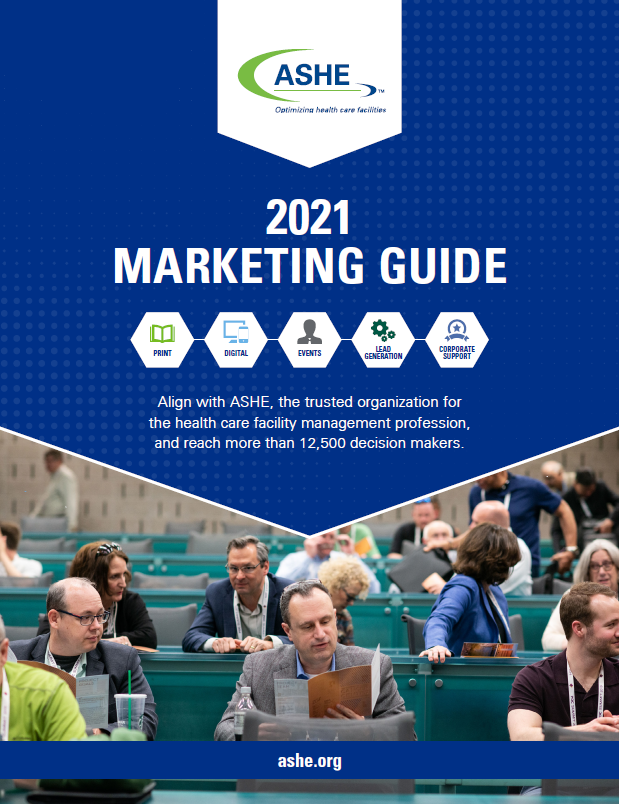 2021 ASHE Marketing Opportunities Guide
Looking to reach health care facility professionals through the media channels and events they trust and rely on most? Align with ASHE, the trusted organization for the health care facility management profession, and reach more than 12,500 decision makers.


Interested in sponsorship opportunities? Please contact Sue Griffin, Sponsorship Sales Manager, at 312-673-5586 or sgriffin@smithbucklin.com.

 
---
Quick Links for ASHE Supporters
ASHE's 12,500+ Members include:
Health care facility managers/engineers
Health care construction managers
Safety and security professionals
Plant management services personnel
Clinical and biomedical engineers
Maintenance engineers
Architects and other design professionals
Infection prevention practitioners
Support service personnel
Health care facility consultants and service professionals can also join ASHE as an Associate Member.